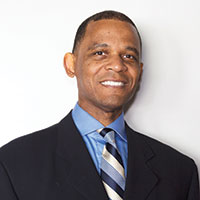 Weapons indictment added to drug charges against Vero doctor
STORY BY BETH WALTON
Photo: Vero Beach spine surgeon Johnny Benjamin.

Vero Beach spine surgeon Johnny Benjamin was indicted a second time by a federal grand jury this month as prosecutors added an additional weapons charge to the doctor's litany of drug charges.
Two codefendants, the informants who cooperated with the U.S. Drug Enforcement Agency as it investigated Benjamin, were named for the first time and indicted on multiple drug charges.
Zachary Steward and Keven George Slater were charged with one count of conspiring with Benjamin in Palm Beach County to possess and distribute a controlled substance resulting in death; one count of distribution there during the fall of 2016; and an additional count for illegal distribution of a controlled substance in Indian River County as early as January of that year.
Each defendant faces 20 years to life in prison if convicted.
The two informants agreed to work with the DEA in exchange for consideration of cooperation at sentencing, court documents note. One secretly recorded multiple conversations with Benjamin to help investigators gather evidence.
Bond for both men was set at $250,000 each last week.
Benjamin, 52, remains in federal custody as he awaits trial. The doctor's petition against the warden of a Miami federal detention center for unconstitutional confinement was dismissed March 14. A federal magistrate denied him bond at an October detention hearing.
It was at that hearing in the West Palm Beach courthouse that Assistant United States Attorney John McMillan said Benjamin had "guns galore" in his barrier island residence and car.
The new indictment accuses Benjamin of possessing at least 14 firearms to further a drug trafficking crime. It goes into no further detail about how the weapons were used.
The doctor, prosecutors say, had a variety of semi-automatic pistols, a revolver and a 12-gauge pump-action shotgun.
If convicted, Benjamin will be required to forfeit the guns to the United States government.
Benjamin's attorneys, Larry Donald Murrell in West Palm Beach and Andrew Metcalf in Vero Beach, did not respond to a request for comment.
Murrell pleaded for Benjamin's pretrial release at the October hearing. Friends and family have come to the courtroom from all over the country to vouch for him, he said at the time.
The guns in his house were legal and stored in a locked case. The ones in his car were in a holster and the doctor holds a concealed carry permit, the attorney added. 
Benjamin, whose medical license is intact, is a registered controlled-substance prescriber in Indian River County and holds staff privileges at the Indian River Medical Center, according to the Florida Department of Health. There are no public complaints on his file.
The surgeon has been incarcerated since Oct. 12 when Indian River County Sheriff's Office deputies arrested him after he allegedly became suspicious of one of the informants and stole a cellphone during a heated exchange at the doctor's Pro Spine Center office.
The DEA had been investigating Benjamin for more than a year before his arrest. Agents were looking into a 2016 Palm Beach overdose death and wanted to know how the deceased woman got the pills that killed her.
They tracked down her dealer, and then found that person's supplier, using unique markings etched into the tablets left behind at the crime scene. Once caught, the accused started working with agents in hopes they would receive lighter sentences for cooperating.
The federal government has come down hard on defendants charged with drug crimes in recent years, especially those in the medical profession it believes are contributing to the country's opioid epidemic.
Fentanyl, one of the drugs Benjamin is accused of distributing, is often used as a cutting agent in both illegal street drugs like heroin and prescription painkillers. Misuse and over prescription of the super-potent drug has become a serious problem in the United States, resulting in tens of thousands of deaths.
Investigators paint a picture of Benjamin that starkly counters the surgeon's reputation in the Vero Beach community. Their Oct. 13 complaint describes a physician selling and attempting to manufacture counterfeit opioid drugs for profit with little regard for human life or the law.
The filing begins with one of the confidential informants telling Benjamin that it was the doctor's pills that led to the Palm Beach woman's Sept. 1 overdose. According to the complaint, Benjamin allegedly responded "that she was just another 'page in a large stack,' and did not seem too concerned."
Later, the two talked about Benjamin purchasing "trees" and "blues," code words for marijuana and oxycodone, from the dealer. The surgeon said he wanted five racks, or 5,000 pills, to start, authorities claim. A drug pick-up was arranged on a recorded line.
When the dealer warned Benjamin the pills might be dangerous, the doctor said he would notify his buyers up north, according to the federal complaint.
"Believe me, I'll tell them, they will be happy to hear that," the doctor allegedly responded. "But, once again, that's the reason we're running it the way we're running it. Because at some point someone is going to have a problem, someone is going to do something stupid and when it does it needs to be so (expletive) far away."
Federal agents watched Benjamin meet the undercover dealer behind the Pro Spine Center for the transfer of the pills. The next day they followed Benjamin to the Melbourne airport where he was caught going through security with thousands of blue tablets and a ticket to Philadelphia. Benjamin told officials he needed the medication for his neck cancer.
Airport security seized the tablets but allowed Benjamin to go on his way.
A few days later, during a final meeting between Benjamin and one of the informants, something went wrong with the audio recording device, investigators note.
The doctor allegedly typed on his computer that he had been stopped by airport police, and wanted to know if his associate was responsible, according to court records.
The informant told investigators that Benjamin threatened him with a throat-slitting gesture before saying "to not run and hide because they will just come after you, your mom, your sister and your kids."
He then claimed Benjamin stole his phone. The case is set to go to trial in April.