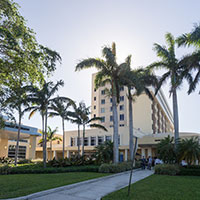 Will Boca hospital join IRMC as part of Cleveland Clinic?
STORY BY MICHELLE GENZ

Boca Raton Regional Hospital announced Wednesday that Cleveland Clinic, slated to take over IRMC later this year, made the cut out of 12 hospital systems and is now one of five finalists to assume control of 400-bed Boca hospital as well.
Boca is a bit behind Vero in the partnership process, though it appears they could catch up. According to Thomas Chakurda, Boca Regional's vice president of marketing, he expects "to conclude the process this summer."
Indian River and Cleveland are expected to have negotiated a definitive agreement by the beginning of June, with closing anticipated by August, following state and federal approvals.
For now, the Boca hospital is also considering Orlando Health, one of Indian River's finalists, along with Miami-based Baptist Health South Florida; Hollywood-based Memorial Healthcare, parent of Joe DiMaggio Children's Hospital; and Novant Health, a North Carolina-based system that has not yet entered the Florida market.
Boca Regional's pursuit of a partner began in earnest last June when the hospital formed a steering committee that served much the same purpose as the Collaborative Committee in Vero Beach.
In October, Boca hired Cain Brothers, a healthcare investment bank based in New York, to aid them in the process. They reached out to 34 possible partners; of the 12 that responded to the request for proposals, the steering committee made recommendations for finalists to the hospital's Board of Trustees.
The Boca hospital, built in 1967, has grown to a 400-plus bed tertiary care center. Hospital leadership is in transition with its CEO, Jerry Fedele, and COO, Karen Poole, slated to retire this year.
Both joined the hospital in 2008, a chaotic year. The hospital had suffered a staggering $110 million loss, which killed plans for a new $600 million academic medical center on the campus of Florida Atlantic University. Turned out, design fees alone accounted for half the huge loss.
Fedele and Poole helped lead a turnaround from a money-losing, layoffs-plagued facility to one that is now solidly in the black and growing. In August 2010, Boca Community Hospital became Boca Raton Regional Hospital, the "regional" in the title justified by a $75 million cancer center and an open heart surgery program rated tops in the state, as media spokesperson Thomas Chadura told the Palm Beach Post.
Donations have flowed into the burgeoning medical facility, including $35 million raised in January from three donors, and $40 million raised in a nine-month period in 2016 and '17.  The more recent donations will go toward a capital campaign for a 278,000-square-foot annex that will house a surgical suite.
Already, a decade of fundraising and construction has resulted in a neuroscience center, a cancer center, a women's health and wellness center and a rehab facility, all with longtime donors' names attached: Lynn, Drummond, Marcus.
The hospital also developed a graduate medical education program with Florida Atlantic University, even without the scuttled academic medical center.
From the first visit to Cleveland Clinic's main campus in Ohio, it was made clear to Indian River officials they should expect to be part of a growing system of Florida hospitals.
Cleveland Clinic Florida president Dr. Wael Barsoum has shared his dream of having a hospital in Palm Beach County – Boca is in the southern part of the county – but he told the Palm Beach Post that Florida's certificate of need program has stopped the Cleveland from building a hospital there.
With that hurdle, Cleveland's options are to take over existing hospitals, and it noted in its Vero proposal that "Cleveland Clinic is engaged in partnering discussions with several organizations in the region."
Those discussions include talks with Martin Health, whose three hospitals stretch from Stuart to Tradition in St. Lucie County.  The healthcare company aligned itself with Cleveland Clinic in January by affiliating with Cleveland's cardiovascular program.
The cardiac-care affiliation would seem a logical first step to full partnership. That has not been publicly discussed, but further ties have been strongly hinted at by both sides.
In a press release, Martin Health said, "As a result of their work together developing this affiliation, Cleveland Clinic and Martin Health have agreed to explore other opportunities to work together more closely." The statement went on to quote Martin Health Chairman of the Board John Loewenberg as saying: "We felt this was an opportune time for future discussion."
Barsoum recently qualified those discussions as likely revolving around added service lines. "Time will tell how that works out," he recently told a reporter.
The Martin Health deal marked Cleveland Clinic's 20th hospital affiliation in cardiovascular medicine and the first such relationship in Florida. Cleveland has an international reputation for cardiovascular care and has held the top spot in the nation in that specialty in U.S. News rankings.
Martin Health's Frances Langford Heart Center opened in Stuart in 2006. Then, in December 2016, the company opened a cardiac interventional lab at Tradition Medical Center in Pt. St. Lucie as part of a 170,000-square-foot expansion that doubled the size of that hospital.
There's also been speculation about Jupiter Medical Center being a target of Cleveland. Founded in 1979, Jupiter is an independent, nonprofit hospital with 207 acute-care beds plus 110 for long-term care, rehab and hospice. Jupiter already is part of Blue Ocean Quality Alliance, Cleveland's integrated network of physicians.
As Cleveland Clinic aggressively seeks expansion in 2018, it has one Florida failure behind it.
The healthcare powerhouse first came to Florida in the late 1980s, establishing its brand here with clinics and physician practices. In 2001, the same year Cleveland built its Weston hospital in partnership with Tenet Health Care, it built a small hospital in Naples.
Less than five years later, though, frustrated by Florida's politically-driven process for allowing or disallowing the expansion of medical services in any given area, Cleveland threw up its hands and moved out.
"Cleveland Clinic worked tirelessly to make the Naples hospital a success, but due to the inability to obtain a Certificate of Need for cardiac surgery, patient seasonality, physician turnover and overall financial challenges, the Cleveland Clinic sold the hospital in January 2006," Clinic officials told IRMC board members.
The 88-bed hospital was sold for a reported $125.5 million to the now-defunct, Naples-based Health Management Associates.
A month later, Cleveland Clinic's former CEO Toby Cosgrove announced it intended to buy Tenet out of its 51 percent stake in the Weston hospital.
Today, while Cleveland Clinic Florida's Weston headquarters is currently in the middle of a $302 million expansion, capital funds are also going to Coral Springs, where a new 74,000-square-foot family health and ambulatory surgery center is underway. That facility, with six operating rooms and 24 prep and recovery bays, is going up on the corner of the Sawgrass Expressway and University Drive.
The facility is expected to draw on the affluent community of Parkland a couple of miles to the north.
That town, tragically familiar to all after last month's school shooting, currently has only a small Cleveland Clinic family medicine clinic.