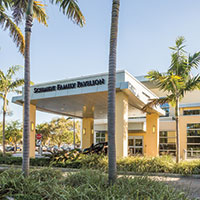 Cleveland Clinic a finalist to acquire Boca Raton hospital
STORY BY MICHELLE GENZ

Cleveland Clinic Florida has made it into the final round of health systems being considered by Boca Raton Regional Hospital.
From a field of five announced in March, Boca Regional leaders have narrowed the field to two: Cleveland Clinic and Baptist Health South Florida. Orlando Health, a one-time suitor of Indian River Medical Center, did not make the cut.
Boca's search for a partner began in earnest in June 2017, a month after CEO Jerry Fidele announced he intended to retire in August 2018.  Earlier this month, Fidele, widely respected for having turned the hospital around 18 months into his 10-year tenure, announced he is postponing his retirement by a year to ease the hospital's transition to new ownership.
Should Cleveland win out over Baptist, the addition of the 400-bed Boca hospital would provide a geographic lynchpin for a proposed South Florida-based system that appears to have Indian River Medical Center in Vero as its northernmost presence.
Negotiations between Cleveland Clinic and Indian River are in the final stages, and advisor Jamie Burgdorfer said the transaction is "moving along well."
"I believe in the next few weeks we will have both the definitive agreement and the amended lease to review with the Boards," agreed District chairwoman Marybeth Cunningham. "IRMC, the District and Cleveland Clinic Florida are still targeting to have an agreement signed by July 1, although some things have taken longer than anticipated."
Cleveland is also in partnering talks with Martin Health, which has hospitals in Stuart and Tradition.