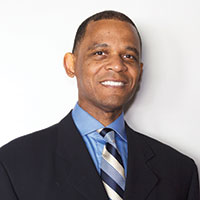 Drug doctor's lawyers bid to recall jurors
STORY BY BETH WALTON

Lawyers for Johnny Benjamin, the former Vero Beach spine surgeon facing life in prison on federal drug charges, clashed with prosecutors last week over a defense bid to bring the jurors who convicted the island resident back for the court room for questioning.
Donnie Murrell, the lead West Palm Beach trial attorney on Benjamin's case, asked the judge May 1 to recall the jury. Benjamin was convicted and jurors discharged April 27.
After the panel was excused, a clerk found a document entitled "Here are 30 do's and don'ts of jury deliberations," Murrell wrote the court. While the list itself isn't clearly prejudicial, its presence is proof that at least one juror ignored the court's instructions and conducted their own outside research.
"The concern, of course, is what is unknown here," Murrell stated. "What other materials, if any, were brought into the jury room? If other material was introduced, how many jurors were exposed to it? Did it have an impact on their deliberations and/or the ultimate verdict? Unfortunately, the only way to determine the answers to these questions is to summon the jurors back to the courthouse and ask them."
United States District Judge William P. Dimitrouleas deferred ruling on the issue and asked federal prosecutors to respond.
In an 8-page response filed on May 8, Assistant United States Attorney John McMillan argued forcefully against recalling and questioning the jury.
Federal rules of evidence bar juror testimony expect in very limited circumstances, he said. Such questioning is only allowed if a mistake was made on the verdict form; if there was inappropriate outside influence; or if extraneous prejudicial information was improperly brought to the jury's attention.
He argued the found documents only effect was to encourage "jurors to take their obligations seriously and to decide the question of guilt based only on the evidence."
Even the defense has stipulated this information is not prejudicial, McMillian said.
A defendant alleging denial of his right to trial by an impartial jury has the burden of proving such an event took place, the prosecutor explained. This needs to be more than speculation.
The trial by jury system was not set up for jurors and their decisions to be constantly scrutinized, said McMillian. The Supreme Court has upheld protections to keep jurors from being harassed "by the defeated party in an effort to secure from them evidence of facts which might establish misconduct."
If such protections didn't exist, verdicts would become a "'constant subject of public investigation' jeopardizing the 'frankness and freedom of discussion' required for jury deliberations," the prosecutor said, citing case law. The jury system itself might not be able to withstand such scrutiny.
Benjamin, 52, was convicted on five of the seven felony counts against him at the federal courthouse in Fort Lauderdale last month.
The case hinged on the testimony from Kevan Slater and Zachary Stewart, two DEA informants whom prosecutors said sold prescription and counterfeit pain pills provided by Benjamin on the street for cash. They also helped with a scheme to build the former surgeon's inventory of illegal pills by using additional people to get illicit prescriptions filled at pharmacies as the drug-selling operation spread throughout the Treasure Coast.
Both men plead guilty and testified for the prosecution at Benjamin's trial. They are set to be sentenced in May.
Benjamin faces 20 years to life in prison after being found guilty of illegal drug distribution and conspiracy to possess and distribute the fentanyl-laced painkiller which caused the 2016 overdose death of a 34-year-old Palm Beach woman.  He was found not guilty on two firearms-related charges. He remains in federal custody and is scheduled for sentencing in July.
His lawyers have declined to say if they will appeal the case. "We're obviously happy with the two not guilty verdicts," Defense Attorney Andrew Metcalf said after the trial. "We're disappointed with the verdict on the remaining counts."
It was terribly sad hearing testimony from the deceased woman's friends and family, said juror Shane Kelly, 26, as he walked out of the courthouse alongside another member of the panel. Benjamin's secretly recorded reference to the victim as just another "page in a large stack" of drug-related mishaps was heartbreaking, he said.
"I wouldn't want him to be my doctor. I wouldn't want him to be my neighbor."
The Florida Department of Health issued an emergency suspension of Benjamin's medical license May 3.
This case shows the U.S. government's commitment to ending the opioid crisis, prosecutor McMillian said after the trial.
"The jury's verdict after listening to the evidence clearly expresses their outrage with the conduct of a medical professional who abused his gift."