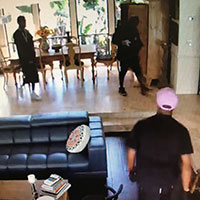 Island burglaries may be work of gang active in 3 counties
STORY BY LISA ZAHNER
Photo: Three suspects were observed on video breaking into a residence in Indian River Shores.

Indian River Shores Public Safety officers are working with multiple law enforcement agencies on the Space and Treasure Coasts, pooling information on home burglaries in hopes they can take down a stolen property ring that has hit several barrier island homes over the past month.
Det. Kip Benham said two homes have been burglarized in the Shores, plus one attempted burglary since March 26. Suspects were caught on video surveillance inside one victim's home on April 16 around 1 p.m., in middle of the day. The footage shows three black males who appear to be in their 20s in the living room of a home on Indian Lane in the Shores where valuables were taken.
Though he couldn't reveal the details or specific methods involved in the ongoing, regional investigation, Benham said the burglars are grabbing small items – mostly cash, jewelry, firearms and phones – and systematically off-loading them for quick cash.
Police believe two other island burglaries could be related to the Shores break-ins, one that happened in Central Beach, on Silver Shores Road in the City of Vero Beach, within a half-hour of the April 16 Shores burglary, and another in Ambersand Beach in the Sheriff's Office territory on the unincorporated barrier island north of Windsor.
"We believe that we're looking at a group of the same people," Benham said.
Lt. John Pedersen of the Vero Beach Police Department provided the incident report on the Silver Shores burglary and said it could be related to the Island Lane burglary, but declined to give any other details.
"We do not have any other information to release at this time as this incident is an on-going criminal investigation.  If information becomes available that we can share, we will contact the media," he told Vero Beach 32963.
Over the past three weeks, Benham said officers have pored over tag registration data from the Shores' license plate reader cameras, looking for suspicious vehicles among the hundreds of cars and trucks that entered and exited the town that day, without the benefit of any vehicle descriptions from the burglary scenes.
Benham has traveled around the county locating suspect vehicles picked up by the cameras. The challenge is, he said, "they usually don't drive their own vehicles. They'll have somebody else rent a car, or they'll borrow a car." This makes it tougher to cross-reference vehicle registration data with the drivers or passengers who may be suspect for some reason.
Related crimes could reach north into the City of Melbourne, and south into St. Lucie County.
By pooling the information, physical descriptions, video footage and crime scene evidence all the agencies have collected on the suspects and the stolen merchandise, Benham said detectives hope to have a better shot at solving these cases than they would working solely on their own.
So far, it appears the burglars have been wearing gloves and not leaving fingerprints.
Anyone with information on these crimes can call the Shores Public Safety Department at 772-231-2451.