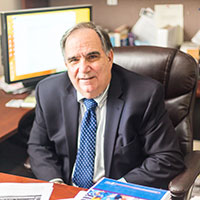 Mental Health Association leader retiring
STORY BY MICHELLE GENZ
Photo: Dr. Robert Brugnoli

Dr. Robert Brugnoli, whose leadership at the Mental Health Association turned the agency around when it was at the brink of collapse five years ago, has informed the agency he intends to retire at the end of this year.
Brugnoli, a native of Staten Island, N.Y., who holds doctoral degrees in clinical and school psychology on top of master's degrees in school and community psychology, has served mental health needs in Indian River and St. Lucie counties for more than 30 years.
Recruited in 1987 by what is now the Behavioral Health Center, he moved to Vero Beach after brief posts in Daytona and with the V.A. in Miami. He eventually went into private practice here and consulted for St. Lucie County schools through 2012.
At the end of that year, he took on his most visible role, as president and CEO of the Mental Health Association, brought in to stabilize an agency in crisis. In what will be a six-year tenure, he will have done just that, after ushering in a new board, recruiting staff and restoring fiscal viability.
"He was the right person for the right job," said Karen Mersky, a Ph.D. clinical psychologist in private practice who has served on the association's board since that crisis. She has chaired the board for the past three years; her term ends in September.
"He has been fabulous," said Mersky. "He has worked tirelessly to grow the MHA into the well-run organization that it is. He really has the passion for what he does and that comes through in everything he does."
Mersky says a search committee is already looking for a new leader. Brugnoli says he would be willing to step in if necessary until such a person is found.
The Mental Health Association's presence in the county dates to 1978, though the current walk-in clinic, on 37th Avenue not far from Indian River Medical Center, was not built until 2007. From the beginning, its purpose has been to fill in the gaps in the area's emotional and behavioral health services.
With a staff of six therapists and a psychiatrist, the Vero agency provides evaluation, crisis intervention and referrals at a walk-in clinic that is free to Indian River County residents. Other services, including group and individual therapy, family and children's counseling, addiction services and pharmaceutical treatment, are provided on a sliding fee scale. And of late, classes have been added in such areas as stress management, mindfulness and academic skill building for students with attention deficit disorders.
The agency also runs seven-day-a-week drop-in clinics in Indian River, Martin and Okeechobee counties. In Vero, the clinic is in a building recently purchased through a donor. The Our House clinic, as it is known, is on Ponce De Leon Avenue downtown.
Brugnoli's engagement with the Mental Health Association began in 1987, shortly after he arrived in Vero. Sharon Glenn led the organization then and wanted to launch a support group for people with depression. She came to Brugnoli, who volunteered his expertise. The group still exists today, offering support for those with mood and anxiety difficulties.
Brugnoli took a fulltime job at the Mental Health Association in late 2012, replacing fired clinical director Irene Acosta, who for the year she worked there lacked a license to practice and turned out to have served jail time in another county for the same issue, it was revealed by Vero Beach 32963.
Within weeks, another counselor, Michael Fitzgerald, was accused of multiple instances of inappropriate touching of a patient. He turned out to have been hired despite having lost his license for three years for having sex with a patient in Tampa.
In December 2012, the then-CEO who oversaw Acosta and Fitzgerald, Kris Sarkauskas, was forced to resign along with the board that backed her, after three organizations – United Way, the McCabe Foundation and the tax-levying Hospital District – threatened to withhold half of the nonprofit agency's $1.2 million in funding.
When Brugnoli took Sarkauskas' place, he was charged with running an organization that even when funds were restored, was still losing money.
A new board was installed, its 12 members donating $100,000. The Hospital District kicked in another $100,000; the McCabe Foundation gave $50,000; and United Way donated $30,000. The charitable arms of private clubs like Quail Valley and John's Island also contributed.
Since then, the Mental Health Association has operated largely in the black, Brugnoli said.
As it turns out, one of Brugnoli's latest undertakings with Mental Health Association will likely be his last, he said – an effort to address the mental health needs of students in light of recent school-based mass shootings.
Brugnoli received the directive at a February Hospital District meeting, when Trustee Ann Marie McCrystal followed up Brugnoli's customary six-month fiscal presentation with a question: What can we do to help the children after Parkland?
Looking at research on violence prevention and at evidence-based programs addressing the problem, Brugnoli found one he believes will address issues that can lead to anger and behavioral problems. Jeanne Shepherd, Brugnoli's clinical director, is writing the grant that McCrystal asked for.
"We'll submit an Impact 100 grant proposal in November," Brugnoli said.
As for retirement, Brugnoli intends to spend more time playing golf, a pastime he took up a couple of years ago. He expects he'll continue playing guitar with friends – after a stressful day, he recently told the District Board, he himself has dropped in to the drop-in clinic and strummed his way through the music therapy group.
"We probably won't be big travelers," he says of himself and his wife Reva. "We have young grandchildren here in town. There's going to be plenty to do."