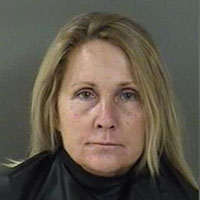 Police arrest suspect in jewelry theft from Village Shops
STORY BY LISA ZAHNER
Photo: Dawn Jeannine Van Dorne

A tip from a Central Beach resident led to the capture and arrest of a woman accused of stealing more than $21,000 worth of jewelry from the Belle Cose store in the Village Shops, and it turns out that she's wanted in California on other criminal charges, according to court records and police reports.
As of press time Monday, 55-year-old Dawn Jeannine Van Dorne, who had been living in her parent's home at 610 Flamevine Drive, was being held at the Indian River County Jail without bond on a Felony Fugitive of Justice warrant from California.
Locally, she is facing third-degree grand theft charges for allegedly lifting two pink tourmaline and diamond rings, valued at $15,000 and $6,100, from the top of a display case at the Belle Cose boutique on March 27 during a trunk show.
After Shores police put out a be on the lookout notice on social media with a brief description of the theft and a very clear surveillance camera image of the yet-unidentified Van Dorne, a Club Drive resident called to say she recognized the blonde woman from an odd encounter in that resident's front yard and driveway.
The tipster who called police on April 17 said about two weeks prior, she and her husband saw a woman with a small dog, off-leash on their property and briefly spoke to her. The woman said she lived on Flamevine, west of A1A in her father's house. The reason why the encounter stood out to the tipster and her husband was because the woman came right up into their driveway near the front door of the home and played with her dog and their dog.
According to court records, the woman asked questions about the neighborhood, saying she might buy a house nearby, and mentioned some recent break-ins in Central Beach.
"It was really strange, she knew a lot of details about the break-ins," the tipster told police.
After getting the tip, Shores police contacted the Vero Beach Police Department for assistance in locating the woman on Flamevine, and a Vero detective recognized the woman from calls for service to 610 Flamevine Drive in October 2017 and identified her as Van Dorne.
Police then determined that Van Dorne had open warrants for her arrest from law enforcement agencies in California.
The white Jeep registered to Van Dorne was also captured on the Shores license plate cameras entering and leaving the town on March 27, the date of the theft at the Belle Cose shop and during the time frame of the incident.
Shores police on April 25 presented a photo lineup to a store employee who positively identified Van Dorne as the woman he observed in the store looking at jewelry. Based upon all of that, plus various witness statements and the surveillance footage showing the disappearing jewelry, police served a search warrant on 610 Flamevine Drive on April 26, recovered the stolen jewelry and arrested Van Dorne.
Van Dorne, who police say also goes by Dawn Jeanine Lake, and who on her booking sheet listed her occupation as "retired," is set to be arraigned on May 23 before Judge Cynthia Cox. As of press time, no private defense attorney or public defender is listed as counsel for the accused.