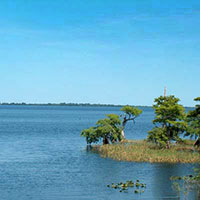 Signs of increased pollution at Blue Cypress Lake reported
STORY BY KATHLEEN SLOAN

County Commissioner Bob Solari raised the alarm last week about deteriorating conditions at Blue Cypress Lake, where increasing phosphorous levels have raised the specter of algae blooms that could kill off plant and animal life and be dangerous to boaters and fishermen.
St. Johns Riverkeeper Lisa Rinaman attributes the surge in phosphorus to human sewage sludge being used as fertilizer by farms in the watershed.  More than 16 million pounds of the phosphorous- and nitrogen-laden waste material was imported into Indian River County and spread on fields near the lake in 2016, according to the Florida Department Environmental Protection.
With a surface area of nearly 11 square miles, Blue Cypress is the largest lake along the Treasure Coast, a relatively unspoiled ecosystem that produces abundant fish life and is one of the two most prolific osprey breeding sites in the world, according to the American Ornithological Society, with 300 breeding pairs returning year after year to huge nests built in the lake's namesake cypress trees.
The lake, which forms the headwaters of the St. Johns River, has stayed mostly pristine up until now because the shoreline is undeveloped, except for Middleton's fish camp, a small residential enclave where there is a general store and boat ramp.
Now, though, a St. Johns River Management District study has shown rising levels of chlorophyll in the lake, an indication the ecology is changing due to an increase in phosphorous, a nutrient that can feed toxic algae blooms.
Algae blooms, which have increasingly plagued Florida lakes and coastal areas in recent years, are dreaded because they can quickly tip a healthy ecosystem into deadly decline. They deplete oxygen, block sunlight, and produce toxins that kill off subaqueous plants and animals. Some forms of algae are dangerous to humans and domestic animals.
The problem of increased nutrient loading at Blue Cypress Lake, as well as other water bodies in the upper St. Johns River watershed – which includes parts of Indian River, Brevard and Osceola counties – has been taken up by St. Johns Riverkeeper, a privately-funded watchdog organization.
Rinaman studied Florida Department of Environmental Protection permits for sludge applications, discovering that "73 percent of the sludge goes to these three counties."
Sludge is the byproduct of sewage treatment plants and contains the nutrients phosphorus and nitrogen, Rinaman said, which both fuel algae blooms. Only phosphorus is spiking in the lake, "because the land doesn't need it so the run-off is greater," she said.
Indian River County treats and disposes its sludge at its landfill. "They do the responsible thing," Rinaman said, "and now they're suffering from sludge being imported into their county."
The amount of sludge coming into the county has been increasing as the muck has been banned in other watersheds.
The Florida Department of Environmental Protection has greatly increased the number of sludge land-application permits in this watershed since the legislature outlawed the practice in the Lake Okeechobee, Kissimmee River watersheds about five years ago because of nutrient pollution, Rinaman said.
"Did the DEP think the results would be any different for this watershed?" Rinaman said.
Utility companies have to dispose of the sludge and pay farmers to take it off their hands. According to the St. Johns study, about 30 percent of a sewer treatment facility's cost goes to sludge disposal.
H & H Liquid Sludge Disposal of Branford, Fla., is the primary sludge purveyor in the St. Johns River watershed. "The owner said he thought he was doing the right thing because he's following DEP requirements," Rinaman said.
Rinaman said she has asked the Florida Department of Environmental Protection what they were doing about the problem.
"They said they would look at their nutrient management plan. 'Not good enough,' I told them," Rinaman said. "I asked they come up with an immediate stop-gap measure. They have not responded. There has been a lot of silence."
Rinaman points out the state "spent hundreds of millions of dollars to improve the St. Johns headwaters" over the last 10 years or so, "and now they're undoing it, wasting those tax dollars."
David Gunter, superintendent of the Indian River Farms Water Control District, said he did not agree with Rinaman's conclusion that the phosphorus spike in Blue Cypress Lake is due to sludge application.
The DEP requires sludge applications be about half a mile from a water body, he said, which offers a buffer. The farmers break up the sludge, turn it under and then roll the land before it rains to ensure the nutrients don't  run off, but go into the soil, Gunter said.
To determine the source of phosphorus, a year's worth of data needs to be amassed, with samples taken at the same time and place, noting rain and storm events, which track the water basin tributaries, Gunter said.
At a recent County Commission meeting, Solari asked that county staff be directed to study the Blue Cypress Lake phosphorus problem but the Commission decided a full report should wait until July, after a June 8 "Regional Biosolids Symposium" that will consider sludge disposal along with other matters.
The symposium is sponsored by the Indian River Lagoon Council and the Treasure Coast Regional Planning Council.