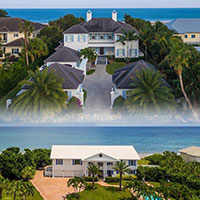 Two oceanfront homes to be auctioned off in June
STORY BY STEVEN M. THOMAS

Concierge Auctions, which has become a regular player in Vero's luxury real estate market, is getting ready to sell two more oceanfront homes on the island in June. The sales will come on top of six Concierge auctions here in 2017.
One home, currently listed at $6.7 million by Sally Daley & Company Real Estate, is located at 1804 Ocean Drive in Old Riomar. The other, at 908 Holoma, behind the Village Shops in Indian River Shores, is listed with Premier Estate Properties broker associate Cindy O'Dare for $2.3 million.
Both homes will be sold at no-reserve online auctions. Bidding will begin at 4 p.m. on June 12 and continue through June 15, to accommodate bidders in other time zones and countries. Bidders are required to put up a refundable $100,000 deposit and show proof of funds sufficient to close if they are the high bidder.
The Riomar house is a beautiful example of the British West Indies-style, solidly built on pilings at a high elevation in 2012 in accordance with Florida's updated building codes.
The 6-bedroom, 6-bath, 6,732-square-foot home sits on a 0.6-acre lot with 100 linear feet of ocean frontage on a healthy, accreting beach. There is a resort-style swimming pool overlooking the Atlantic surrounded by a Hamptons-like manicured lawn perfect for croquet or badminton.
Custom millwork, marble and walnut floors, vaulted ceilings, a chef's kitchen, deluxe bathrooms, ocean views from every room and a private guest cottage are additional features.
"The location is really the best feature," says Daley. "There are only about 15 oceanfront lots in Old Riomar and this is one of them. You get the ambiance of a classic neighborhood combined with modern construction that is up to code on a wide, beautiful, accreting beach."
Some recent Concierge auctions have resulted in sales well below prior list prices, but Daley says the owners of the Ocean Drive home want to go the auction route to achieve a sale "by a date certain."
"We have been on the market, on and off, for eight months," Daley says. "We have had offers and been under contract but the deals have fallen through. The sellers knew about Concierge selling other oceanfront properties here and decided they wanted to auction their house. They made a business decision to achieve the certainty of a sale by a set date. It was simple as that.
"This is the first time I have worked with Concierge and I am very impressed with their business model. They value the role of the local agent and want me to be involved as an advocate for the house."
O'Dare say's her clients went through a similar process to arrive at the decision to sell their home at auction.
"The house was first listed in September, about eight months ago, at a fairly high price. We had lots of interest but no offers and tried reducing the price a couple of times. When there were still no offers, the sellers made a business decision to contact Concierge and do an auction.
"The sale represents a tremendous opportunity for the right buyer. The land alone – more than an acre with 150 feet of ocean frontage – is worth $2.5 million."
The 5,560-square-foot home on Holoma Drive, built in 1981, includes four bedrooms, four and a half baths and a four-bay garage. There is a media room, an elevator, an oceanfront terrace, a swimming pool and hardwood floors.
Concierge business development manager Katie Lawless says anyone who wants to bid on one or both of properties can register online at the auction company's website.
"All the information and due-diligence documents are available on the property pages," she says.
Concierge and the listing agents will be holding open houses at the properties from 1 p.m. to 4 p.m., seven days a week, between now and the auction date.
The listing agents will receive a typical brokerage fee when the sales close and Concierge is offering a 2.5 percent commission to outside agents who bring a successful buyer. Buyers will pay a 12 percent premium, or minimum of $175K, on top of their winning bid price, to compensate the auction company and agents for marketing costs and services.