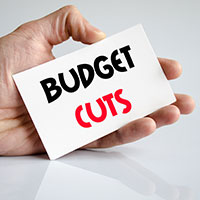 Vero arts groups take stock of cuts in state funding
STORY BY MICHELLE GENZ

The drumbeat of news alerts about possible arts funding cuts began just as Vero's cultural season was reaching its peak, staffers so swamped with shows and concerts they hardly had time to inhale.
They managed a collective gasp, though, when they learned in March that state matching grants many rely on had been slashed by a staggering 90 percent.
Today, as their audiences head north or settle in for the lassitude of summer, Vero's signature cultural institutions are taking stock of the blow dealt them by a governor and state legislature who consider the arts non-essential.
The cuts in the state's Division of Cultural Affairs recommended matching grants will cost Riverside Theatre and the Vero Beach Museum of Art $140,000 each. McKee Botanical Garden will lose $100,000.
Smaller but still important Vero arts groups, including the Theatre Guild, Ballet Vero Beach and Vero Beach Opera, will get next to nothing under the new protocols.
Florida's spending on arts and culture (a term loose enough to include zoos and race car museums) now amounts to .00028 percent of an $88 billion budget. As a result, Florida's national ranking on arts spending slipped from 10th in the country to 48th.
The downward trend began after a banner year for funding in 2014-15, when Riverside and the Museum of Art both won their full program grant requests of $150,000. On top of that, for the first time, the museum was awarded a matching endowment grant of $240,000.
The decline was precipitous thereafter. By the next fiscal year, program grants to the museum and Riverside were cut by more than half, to $62,000 and $68,000 respectively. The Theatre Guild got $16,689, down from the $35,000 recommended.
In a bright note, Fellsmere got a state windfall in 2015-16 – a $500,000 grant to build a public activity space around the historic Fellsmere school, but the overall downward trend continued.
Last year, total state funding for nonprofit cultural organizations dropped from $25 million to $2.6 million. By contrast, the legislature this year voted to give the for-profit tourism industry subsidies of $77 million.
Indian River's total state support for the arts for next year is a paltry $29,932. That breaks down to $9,800 for Riverside and the Museum of Art, though both were approved for $150,000 by the Division of Cultural Affairs.
McKee will get $7,012, though it was approved to receive $115,000. The Theatre Guild, which was approved for $50,000, will get $3,200.
Vero Beach Opera got the OK from the Division of Cultural Affairs for the $25,000 it applied for, but when Tallahassee came back with only $1,000, the group decided it wasn't worth filling out the paperwork.
"We decided the amount of time and work to do reports, etc., was not worth it, so we declined," said Joan Ortega-Cowan, president of the opera.
Robyn Orzel, director of development at the Vero Beach Museum of Art, said she and other staff along with members of the board wrote letters to legislators telling them that "this really hurts," and asked donors to do the same.
"Given the economic impact of cultural organizations across the state, one of the biggest things that's hard to get your arms around is that the state is not willing to support that. That's what's unfortunate," Orzel said.
"We understand the amount we get is based on the budget," continued Orzel. "But the fact is that it was basically reduced to nothing."
She said the museum will try not to cut programming "if we can help it."
"We have to balance a budget every year," Orzel said. "We're pretty conservative in what we forecast in future years. We never put in $150,000 from the state of Florida. If it comes in, great, and if it doesn't, we just have to find it however we find it."
Orzel a 67 percent of the museum's budget comes from donations. When combined with membership fees and earned revenue in the form of tuition for art school, income from individuals jumps to 95 percent of the budget.
The museum's grant, as well as Riverside's and McKee's, typically comes from what the Cultural Affairs division calls general program support. Other grant categories include money for buildings and specific projects.
It was those categories that took the hardest hit in the state's 2018-19 budget. They, along with endowment grants, were effectively zeroed out.
Adam Schnell, founder and artistic director of Ballet Vero Beach, thought he had used a prescient strategy last year when he applied for money not through program support but for projects – namely, his new ballet, "Nutcracker by the Indian River."
Debuted last season and intended to be performed each year around Christmas, the original ballet with its large cast, extravagant sets and hand-made costumes requires on-going staging expenses, including stage set-up, dancers' pay and special effects.
Last year, the state came through with $25,000.
"What threw us off is that the general program support fluctuates from year to year, but they never touched the project grants," said Schnell. "We assumed that it was still safe, [even] when the news came out that they were cutting. Then they kept cutting and they kept cutting, further than they ever had before, and suddenly, the bulletin came out that they gutted the project grants.
"It was shocking," he said.
Schell understands that other issues arose that moved lawmakers as well as their constituents. There were expenses after Hurricane Irma in the fall. Then came the school shooting in Parkland that ultimately prompted $400 million in spending that included money for school fortification and armed police at every school.
At the same time, funding was granted to arts organizations that skipped over the rigorous review processes of the Division of Cultural Affairs and entered their request directly into the budget proposal. In all, more than $2 million was doled out to those unvetted causes, almost the same that went to the Cultural Affairs recommended recipients.
"That's what is frustrating for a lot of people," said Schnell. "At least we are going through a legal process and a step by step process, whereas, if a congressman says I want this museum in my district, they can tack that on. Scott funded these projects that had nothing to with the recommended grants."
Schnell points out that unlike other Florida counties known for their cultural vitality, the Indian River County Commission allocates no funding for the arts, though it collects a bed tax to support tourism.
Sarasota County, by contrast, gave $2 million to arts organizations last year, all of it coming from its tourist tax. The city of Jacksonville gave out $2.2 million in grants to arts nonprofits last year. Palm Beach County's Cultural Council distributes some $4 million in bed tax money, with the County Commission and the city of West Palm Beach kicking in additional grants.
"We're a little bit cut off at the knee by not having municipal funding," said Schnell.
Schnell commended arts advocacy groups including the Division of Cultural Affairs and the local Cultural Council for "making it easy to communicate with legislators," citing Barbara Hoffman, the volunteer director of the Cultural Council in Indian River County.
Hoffman said she went several times to the office of state Rep. Erin Grall, a Republican, to give presentations on the importance of arts to the area's economy. "Grall's staff is amazing," she insisted. "I would give them information and they would offer to take it themselves to Sen. (Debbie) Mayfield's office."
Patrick Steele, an aide to Mayfield, said he had not heard of the concerns of Indian River arts organizations, though he added he was not assigned to that subject area. "They had $400 million they had to find," said Steele, referring to the funding package to reduce school shootings.
As for Grall's office, "they're not responding," said Hoffman. "I have not heard anything from them."
"It may come back strong next year, it may not," said Schnell, who has let his "amazing" donor base know that the ballet can no longer count on the state and will have to make up the loss with donations and ticket sales.
"It's one of those things – it's a business. A healthy arts organization has a real mix of grants, private donations and earned income," said Schnell, a former professional ballet dancer who has a master's degree in arts administration.
Other arts organizations within range of Vero also had their funding slashed. Atlantic Classical Orchestra, which is based in Fort Pierce but has audiences in Vero, Stuart and Palm Beach Gardens, was approved for $75,000; it got just under $5,000.
In Palm Beach County, the cuts affected the Kravis Center, Palm Beach Opera, the Flagler Museum, Palm Beach Dramaworks, and even the Palm Beach Zoo.  Each organization was recommended to receive $150,000 and instead was granted around $10,000.
In Brevard County, the story was the same: The Historic Cocoa Village Playhouse, ranked among the top ten in the state on the Cultural Affairs scored list, managed to get only $10,270 of the $150,000 it was approved to receive.
The Brevard Symphony, which also performs in Vero under the Indian River Symphonic Association, got $5,973 of the $92,300 it was approved for. The King Center received $9,573 out of $150,000. The Brevard Zoo got a similar fraction of the $150,000. In all, Brevard received $69,929 between a dozen cultural organizations.
"We have statistics from 2015 where all of Florida participated in a study to show the economic benefits of arts and culture locally and statewide. The millions of dollars that these organizations give back to the government is significantly more than what they give us in the grants," Hoffman said. "That paints a very different perspective in the importance of arts and culture and what it means to get these cuts."