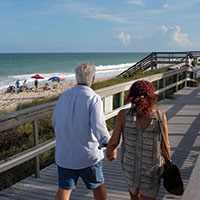 Beaches back to normal after unprecedented red tide siege
STORY BY SUE COCKING
Photo: With the red tide gone, Conn Beach returns to normal.

The island's ocean beaches are again open, the sea air is fresh and clean, and strollers on the Conn Beach boardwalk and sunbathers on the sand below are once more enjoying the best of what this seaside community has to offer. 
The noxious red tide that closed island beaches, caused respiratory problems, and killed tons of ocean fish is gone from Vero and the rest of Indian River County. 
But the local tourism eco- nomy was taken by surprise and hit hard by the toxic algae's totally unprecedented two-week siege.
"It's safe to say losses are close to a million dollars for beachside hotels and restaurants," said Allison McNeal of the Indian River Chamber of Commerce Director of Tourism, who conducted a survey of local businesses. "They've all suffered losses."
The Chamber is encouraging small businesses to apply for no-interest, short-term loans of up to $50,000 being offered by the Florida Small Business Emergency Bridge Loan Program in counties afflicted by the red tide. 
It's also applying for an $80,000 grant through VisitFlorida – the state's tourism arm – to put together an advertising campaign beginning Nov. 19 letting prospective visitors know that beaches are open and it's business as usual, and launching "Back to the Beach, A Restaurant Celebration" Nov. 6-8, offering locals discounts at participating restaurants
Meanwhile, the cleanup of dead fish from the more than 22 miles of county beaches is nearing completion, with more than 150,000 pounds of carcasses removed since Oct. 20 by Vero Beach and county workers and contractor Ceres Environmental Services. 
The cleanup effort got a major assist from the Florida Department of Environmental Protection, which kicked in $522,000.  Those funds were among a total of $1.3 million awarded to the five red-tide-affected counties.
Fish killed by the red tide in Indian River County included  parrotfish, wrasse, croaker, sea robin, pinfish, mullet, sea trout, bonefish, surgeonfish, sardine, yellowtail snapper, bluefish, catfish, grunt, sea bream, jack crevalle, porgy, tarpon and eels, according to the Florida Fish and Wildlife Conservation Commission's Fish Kill hotline database. It's too soon to know if the bloom damaged fish populations.
FWC is recommending continued water testing at county and city beaches and in Sebastian Inlet State Park.
Said Indian River County Coastal Engineer James Gray:  "We had red tide back in 2007-08, but it wasn't to the point that we had fish kills.  From my standpoint, this was unprecedented – absolutely the worst I've experienced in my 10 years with the county."
The red tide, which has plagued Florida's Gulf coast for more than a year, arrived in southeast Florida last month, and was first reported in Vero Beach Oct. 15. 
Although it occurs naturally in deep Gulf waters, it creates problems when it comes ashore, causing sneezing and coughing, itchy eyes and sometimes respiratory distress. According to the Florida Health Department, 14 people went to emergency rooms in Indian River County complaining of red tide-related problems during the bloom, and another 15 from the county called poison control hotlines.