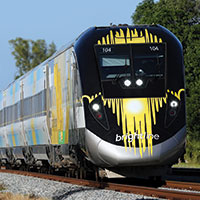 Brightline foes may be nearing the end of the line
STORY BY FEDERICO MARTINEZ

Indian River County officials are scheduled to return to federal court on Nov. 27 to make what will likely be their final legal stand in the effort to derail All Aboard Florida's plans to run high-speed passenger trains through Vero Beach. 
That's when Indian River and Martin County officials, who are also part of a lawsuit filed in February, were supposed to make their case that the U.S. Department of Transportation and the Federal Railroad Administration improperly subsidized All Aboard Florida's Brightline trains with tax exempt bonds, while violating the National Environmental Policy Act.
 The two counties have already spent more than $7 million on the lawsuits and Martin County officials recently publicly stated they cannot afford to keep fighting.
Martin, it turns out, now wants to settle with All Aboard Florida.  But Indian River County Administrator Jason Brown said that Indian River has not yet given up the fight, and said the county has declined offers by All Aboard Florida to negotiate the issue. 
"This issue remains in litigation," Brown said during a recent phone interview. "We're not involved in any negotiations; it's in litigation."
Brown and the Indian River County Commission went into closed session during an Oct. 20 meeting to discuss All Aboard Florida's invitation to submit a proposal for where a new station could be constructed in the county.
Commissioners decided not to submit a proposal, voting instead to allocate another $92,500 to continue fighting through the end of the year, including $15,000 for the Nov. 27 hearing, according to county records.
Other communities, including Stuart and Fort Pierce, have signaled they are ready to work with All Aboard Florida by submitting station proposals to the company.
The rail company has prevailed in eight other lawsuits filed by Treasure Coast communities since 2014, when the company announced its expansion plans.
All Aboard Florida officials said last week the company is confident it will prevail in court this time, too, and looks forward to working with the various municipalities, including Vero Beach.
"All necessary permits have been approved," said Ali Soule, director of public affairs and media relations. "We've already started work on the corridor, including laying fiber cable and landscaping."
All Aboard Florida – which announced last week it will change the Brightline name to Virgin Trains USA, after entering into a partnership with businessman Richard Branson's Virgin Group – began service between West Palm Beach and Fort Lauderdale in January and extended service to Miami in May.
The high-speed rail project ultimately is set to run from Miami through the Treasure Coast and Space Coast to Cocoa before swinging west to Orlando.
The proposed expansion would significantly increase the number of trains passing through Indian River County where there are 31 at-grade road crossings, many in need of safety upgrades, county officials have said.
Local objections to the train service have been based mainly on safety and quality-of-life concerns.
If Indian River and Martin counties win their lawsuit, it would be a major set-back for All Aboard Florida because it would eliminate most of its funding earmarked for phase two – though it is possible Branson's Virgin Group could provide an infusion of cash to keep the train company's plans on track.