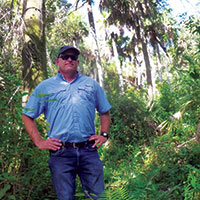 Indian River Land Trust restoring 30 acres of habitat along U.S. 1
STORY BY SUE COCKING
Photo: Indian River Land Trust's director of land protection, David Heuberger at the Coastal Oaks Preserve.

Driving south on U.S. 1 past Oslo Road, you may have noticed cleared land with scattered piles of debris on a former citrus grove on the east side of the highway. 
Relax. It is not the future site of a big-box retailer. You are looking at beginning stages of the Indian River Land Trust's restoration of 30 acres of the Coastal Oaks Preserve – a 220-acre jewel in permanent conservation extending from U.S. 1 to the Indian River Lagoon.
Bounded roughly by the Grove Isles development to the north and Vero Shores to the south, the preserve envelopes a rich mix of habitats – wetlands, pine flat woods, mangrove forest and coastal oak hammock.
The Land Trust acquired 190 acres of the property in 2011, followed by the 30 acres fronting the highway in 2016 – land that had been slated for construction of more than 500 homes. The Trust paid for the property with private donations as well as mitigation money from the St. Johns River Water Management District.
Until very recently, the front 30 acres was clogged with exotic Australian pine and Brazilian pepper. Then the Trust got to work – knocking down the invasive trees, slashing the bushy thickets, mulching and raking.
"It's becoming a blank slate – a canvas to create a natural environment," said David Heuberger, the Trust's director of land protection. 
The next step is to get rid of the debris and grade the property. Then plans call for restoration of a 50/50 mix of forested wetlands and upland oak forest to be completed before next summer. Deeper marshes will be planted with cypress and pond apple while the shallower portions will host red maple, American elm and sugarberry. Cordgrass and leather fern will edge the marshes. The upland forest has live oak, magnolia, pignut hickory, saw palmetto, beauty berry and wild coffee.
The Trust, partnering with Harbor Branch Oceanographic Institute, is working with students from Indian River County high schools to help restore the preserve as part of an after-school Junior Scientist Program.
"This is such a unique place," said Trust Executive Director Ken Grudens. "We want to be able to provide limited or organized access working with nonprofit partners. We want to keep the rustic feel and allow the public to use it in some form or fashion."