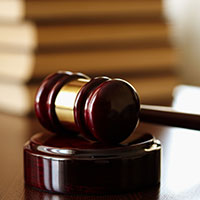 Judge issues stern rebuke to deputies, dismisses charges against Vero man
STORY BY FEDERICO MARTINEZ

Cocaine possession charges against a Vero Beach man have been dismissed by Judge Cynthia Cox, who issued a stern rebuke to three Indian River County sheriff's deputies.
Cox said the deputies gave questionable, contradictory testimony in court and failed to provide necessary evidence, including video and audio footage that mysteriously disappeared.
In dismissing the charges against Sean Bresnahan, 25, on Nov. 14, Cox also scolded deputies Andrew Ward, Quang Le and Richard Henson for conducting an illegal search and unlawfully detaining the suspect longer than necessary.
In a nutshell, the deputies, a trainer and trainee, stopped Bresnahan for speeding, found his license and registration in order, did not give him a ticket, and then stalled, keeping him from leaving until a canine unit arrived to seek drugs in his car.
Police cannot detain a citizen indefinitely, or search his or her vehicle for drugs, unless they have probable cause – a legitimate reason to think that drugs are present – which the judge said was lacking.
The deputies also never read Bresnahan his Miranda rights before questioning and arresting him.
"No evidence was presented to explain why the audio/video recording of the traffic stop was unavailable," Cox stated in her written decision. "The defendant was detained and not free to leave until a warning was written for the traffic violation, but no effort was made during the traffic stop to prepare the written warning."
Cox also noted that the deputies' testimony was frequently "inconsistent," and that they could not provide evidence that would justify their actions during the incident.
"No evidence was presented of an articulable suspicion of criminal activity supporting a continued detention to search for drugs after the defendant's information was validated," Cox said.
Sheriff Deryl Loar and Public Information Officer Eric Flowers did not respond to inquiries seeking comment about the incident or court action.
Vero Beach Attorney Andrew Metcalf, who represented Bresnahan, said he was not surprised the case was dismissed.
"As far as her ruling, I of course think it was spot on," Metcalf said. "It was clear this officer was really only concerned with getting to search my client's car.
"I say this because the officer clearly lost all interest in whether he was speeding. It was all about searching the car. Rarely would you see someone beachside driving a luxury car detained so a canine unit can arrive.
"The bottom line is if you pull somebody over for speeding you can only detain them long enough to write out a citation," Metcalf said. "If you don't write out a citation, you can't just keep detaining someone until a canine unit arrives."
Metcalf said it was also illegal for Henson to start questioning Bresnahan before he had been read his Miranda Rights.
According to Indian River County Sheriff Office reports, Deputy Ward, who was a deputy-in-training at the time, and Le stopped Bresnahan at 9:17 p.m. on July 26 after their radar detected Bresnahan's pickup truck was traveling 44 mph in a posted 35 mph speed zone.
Bresnahan was traveling eastbound when he was pulled over at the 8800 block of U.S. 1, in Sebastian.
Ward testified during a Nov. 7 hearing before Judge Cox that after checking Bresnahan's driver's license, registration and proof of insurance, he decided to just issue a verbal warning – which he did.
Deputies acknowledged the traffic stop and eventual arrest were recorded by police video cameras, but when Metcalf and Cox asked Ward where the video and audio evidence was, he at first told them, "I don't know." When pressed, he acknowledged that he had turned the video over to his training officer Le.
During questioning Le said the video had "disappeared" and he had no idea what happened to it.
The Indian River County Sheriff's Office currently uses video cameras that are installed in patrol vehicles, and deputies wear microphones on their uniforms, several deputies explained. The video cameras turn on automatically when a patrol vehicle's lights are turned on. The audio can be manually turned on and off by the deputies wearing the microphones.
The recorded video and audio are transmitted to a storage device located in the patrol vehicles, deputies say. Deputies are then supposed to save and download the recordings into a server located at the sheriff's office.
Bresnahan, who initially pled no contest to the charges but later changed his plea to 'not guilty,' said he was relieved that the charges were dropped.
"I'm glad it's over," he said. "When it happened, I thought that it was strange that they wanted to search me for a speeding ticket."
Bresnahan's case was bolstered by the many mistakes and inconsistencies noted during the deputy's testimony and their written reports.
In his sheriff's report, Ward wrote that he was present when Le asked Bresnahan for consent to search his vehicle, to which he replied "no." But during testimony Le said he asked to search the vehicle while Ward was in the police cruiser running a check on Bresnahan.
Ward and Le testified that they couldn't recall which one of them called for canine officer Henson. Henson also couldn't recall who contacted him or why, but he said the deputies were speaking with Bresnahan when he arrived.
Under cross-examination, Henson told Metcalf that "I was called because [Bresnahan] refused the search. I mean, that's what I was told when I arrived." Henson could not recall which deputy explained the reason why he was called.
All three deputies testified that they spoke to each other at the scene, but nobody could remember anything said during the conversations.
Henson testified that he ordered Bresnahan and his passenger to get out of the car because he was going to have the canine sniff the vehicle.
After Bresnahan exited the vehicle, Henson said he asked the suspect if he had anything "illegal in his possession." Bresnahan replied that he had a small plastic bag with some cocaine in his front pants pocket.
Henson, who has been with the canine unit 16 years, testified that it took "two minutes" from when he arrived on the scene to when Bresnahan confessed.
During the hearing, Henson argued that since he wasn't "interrogating" Bresnahan, his questions weren't subject to Miranda.
State Attorney Steve Wilson, citing previous federal cases as support, argued that the incident was a "lawful detention."
Metcalf successfully rebutted Henson and Wilson's claims. "This is disingenuous," Metcalf said.
"You can ask questions related to the traffic stop, but you cannot detain a person any longer than it would take to write a citation, which is something they didn't do until after he was arrested and in jail.
The law says you can't just hold someone until you find something."