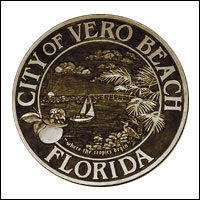 Old Vero Council may yet see completion of electric sale
STORY BY LISA ZAHNER

No matter the outcome of the Linda Hillman election challenge case set to go to trial before Judge Paul Kanarek on Dec. 17, the presently seated Vero Beach City Council could, theoretically, still get the sale of Vero electric over the finish line before an election is certified.
Hillman sued saying she was unfairly disqualified as a candidate and removed from the Nov. 6 ballot after a blank signature page in her qualifying paperwork was discovered.
She and her Tallahassee-based attorney Mark Herron are asking for last week's election – in which nearly 5,000 Vero residents voted – to be tossed out and for a new election to be held, with a brand-new qualifying period that would allow Hillman, disqualified candidate Brian Heady and others to jump into the race for three seats.
Kanarek ordered the City of Vero Beach Canvassing Board not to certify last Tuesday night's results, which would have returned Councilman Tony Young and Councilwoman Laura Moss to office, and ushered Robbie Brackett into the third seat, which is being vacated by Vice Mayor Lange Sykes, who did not seek re-election. Instead, the matter will be decided in court the week before Christmas.
If the trial concludes in one or two days, and Kanarek rules on the spot that the Nov. 6 election will stand and Hillman was rightfully disqualified, the city would need to schedule and publish notice of an organizational meeting of the Canvassing Board, made up of City Manager Jim O'Connor, City Clerk Tammy Bursick and City Attorney Wayne Coment, to certify the election.
That would be likely to happen the week after Christmas or even in early January.
If Kanarek rules that the city needs to scrap the Nov. 6 results and hold a special election, Vero won't get a new City Council until February or March.
As a first step, the City Council would presumably need to codify the court decision in a special council meeting. Then a week-long candidate qualifying period would be opened up and closed, with names the drawn for ballot order and reported to Indian River County Supervisor of Elections Leslie Swan so ballots can be printed.  That would likely be either the week after Christmas or the first week in January.
Since Swan has said she needs at least 60 days' notice to schedule and prepare for a special election, that means the earliest the election could be held would be mid-to-late February, or even the first Tuesday after the first Monday in March – which ironically used to be local Election Day.
Mayor Harry Howle said: "I'm glad a judge is going to sort out our election situation. There is a qualifying process in place for a reason, and if a candidate neglects to fill out their paperwork properly, then by our rules they aren't qualified to be a candidate.
"If we are going to modify the rules for a specific individual and set a legal precedent for the entire state, I'd prefer it be a judge who does that rather than a canvassing board or a City Council."
Whether it means sticking it out another six weeks or another three months, Sykes said he'll keep working on the city's complex problems until his last day in office. Sykes, who was elected in 2016 after an unsuccessful Republican primary bid for the Florida House seat now held by Erin Grall, did not seek re-election to the council because he promised businesses partners he'd back away from politics to focus on his new venture, Riomar Shoes.
"I will continue to pursue solutions to alleviate our beachside parking issues as well as advocate for our Lagoon Legacy program which aims to complete local projects focused on the health and future of our Indian River Lagoon," Sykes said Sunday, "I'm proud to continue to serve on the Vero Beach City Council and look forward to helping complete the sale of the city electric utility to Florida Power & Light."
And where does that sale stand?
Well, the Florida Public Service Commission's staff recommendation on Lynne Larkin and the Civic Association of Indian River County's challenge to the PSC's 3-2 vote on June 5 to approve the sale terms of FPL's acquisition of Vero electric was due by this Thursday.
After getting the staff recommendation, the PSC is scheduled to either affirm the June vote or reverse it on Nov. 27. Then a written ruling will be published, starting the clock on yet another 21-day appeals period before the ruling is final. The only place to appeal the PSC's agency action is the Florida Supreme Court.
So if there's no appeal, and the Nov. 6 election stands, it's possible – not probable, but a slim chance if the stars align perfectly – that the Vero Beach City Council, legal staff and FPL officials, while working through the holidays in late December, could deliver a long-anticipated Christmas surprise to electric ratepayers.
Those who have followed Vero Beach politics and the electric sale for any length of time, however, would not be likely to bet on a flawless outcome to this decade-long saga.
Nevertheless, Howle is one who would venture to bet on Vero succeeding, despite the odds.
"I'm optimistic that we have a great chance for a positive outcome at the PSC," Howle said.
"I believe the PSC cares about Vero customers, knows that this is a fair sale for all parties, and will give Vero residents the relief we've been pursuing for a decade now," he said.