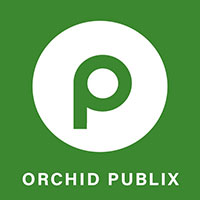 Plans for Publix in Orchid seem on track despite foes
STORY BY SAMANTHA ROHLFING BAITA

Plans for a new Publix at the east end of the Wabasso Causeway in Orchid appear to continue to be on track, despite opposition from potential neighbors who live just outside the town.
Only moments after being sworn in last Friday, the Orchid Town Council heard an update from Town Manager Noah Powers on plans submitted last month by Publix for a scaled-down 31,000-square-foot Publix and five other retail shops on  Route 510 immediately west of Jungle Trail.
New to the council are Simms Browning and Patti Oertie-Phaneuf. Returning incumbents include Paul Knapp, Harold Ofstie and Robert Gibbons. Ofstie and Gibbons will continue as mayor and vice-mayor, respectively.
Powers and members of the council have received scores of complaints about Publix's plans, mostly from people who live in Old Orchid and The Seasons, subdivisions outside the town of Orchid that are near the project site. Those residents are worried about visuals, noise, lights, traffic, security and quality of life. They're also upset that they won't get a vote in the final decision. 
If approved, the project would be built on a 7.21-acre parcel on the north side of 510, across from the county fire rescue station. Publix holds a contract to purchase the property from Vero developer Ken Puttick.
Council members said repeatedly they are determined to obtain as much hard data and specific information as possible on how Publix plans to address the public's concerns.
Town Attorney Warren Dill strongly urged the council to move forward with completely open minds and no pre-conceived positions.
Gibbons suggested one source of expertise the council could tap while considering the project: Orchid resident Joe Harding, a developer who has extensive experience with similar supermarket projects. Harding has spoken with Publix about the Orchid project on several occasions. He says the company has dealt with the same concerns in other well-to-do areas, pointing to a stylish market the company built in an up-scale Richmond, Virginia location.
"It appears [Publix] ... has been and will continue to be responsive to residents' concerns" and find ways to solve the problems, according to Harding. The concerns voiced by Orchid's neighbors about added traffic, lights, noise and security issues have all been dealt with by Publix in other areas, he said.
Meanwhile, a council training workshop is set for Dec. 11, so members can get up to speed on the intricacies of the town's building code and all the regulations and requirements that must be adhered to. The workshop will be open to the public, but will not include public comment.
The public will have opportunities to comment on the plans at quasi-judicial public hearings, which are required by law ahead of a Town Council vote. The first hearing, which is expected to take place before the end of March, will be conducted by the Orchid Planning Agency, which will then send a recommendation to the Town Council, prior to its own quasi-judicial public hearing.  Only after that second public hearing will the council take the final vote.