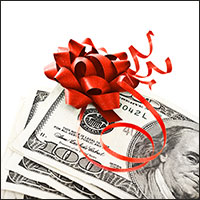 Surprise gift adds pre-Christmas magic to fundraiser for children with cancer
STORY BY STEVEN M. THOMAS

Carol Prezioso, managing broker for Berkshire Hathaway HomeServices, was feeling good as she drove home on a recent Monday night from a successful fundraiser for Sunshine Kids, an organization that "adds quality of life to children with cancer by providing them with exciting, positive group activities."
Her mood changed abruptly when she got what she says was a "mortifying" phone call.
The Oct. 29 "celebrity chef" event, organized by Berkshire Hathaway and held at Fujiyama Japanese Steakhouse, had attracted 110 people who came to watch Berkshire agents and friends entertain guests by cooking hibachi style, assisted by Fujiyama chefs. After costs, the dinner had raised $7,500 for Sunshine Kids.
The only problem was Prezioso had forgotten to give the restaurant a check for the $3,300 owed for "food, beverages, tax, tip, venue, services, master chefs who assisted and celebrity chef training" before heading home. "The call was from one of the celebrity chefs telling me I forgot to pay."
Prezioso immediately called Fujiyama manager Tao Feng Zhao to apologize. He told her it was OK, she could bring a check by the next day.
Meanwhile, back at the restaurant at Century Town Center at Highway 60 and 58th Avenue, the staff and customers in the bar were talking about the event.  The charity dinner had occupied the entire restaurant but Fujiyama's bar was still serving the general public and John Ross, owner of Hannabri Roofing, was having a drink.
"I had never heard of the charity, but my mother had cancer and I could just imagine what it would be like for a kid to go through that," Ross says. When Ross heard a staff member mention that the bill had not been paid, he told Zhao: "I got that."
"It was a spontaneous thing," Ross says. "I didn't really think about it. I just paid the bill. It seemed like such a great cause."
Impressed with the contractor's generosity, Zhou gave him back $300, contributing that amount himself, according to Prezioso.
"When I went back early the next day to drop off a check, Tao told me someone had already paid the bill," she says, still somewhat amazed.
"I didn't know John, but I got in touch and thanked him profusely for the donation. Because of his generosity, the amount of money raised from our event for Sunshine Kids jumped from $7,500 to almost $11,000!
"I have met some of these kids and heard their stories and their parent's stories," Prezioso says. "After they are diagnosed with cancer, they spend so much of their time around doctors, hospitals, and adults, that they lose touch with their old friends. Sunshine Kids helps bring them together with other kids who are going through the same things.  They are able to form bonds with these kids who can relate to their experiences. They help each other through those trying times, all while giving them an opportunity to celebrate life!"
Prezioso says "Berkshire Hathaway HomeServices Florida Realty is the top Fundraiser in Florida for Sunshine Kids and since 2001, has raised over $3.5 million for the organization."
Ross declined to be photographed for this article. He said he just hopes more people find out about Sunshine Kids, and support its efforts to help bring some pleasure and happiness into the lives of children with cancer.