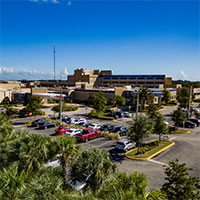 Will undocumented immigrants still get free care at the E.R. after Cleveland Clinic takeover?
STORY BY MICHELLE GENZ

Within Cleveland Clinic's otherwise generous financial aid policy, a little-noticed requirement of legal U.S. residency is getting closer scrutiny as the health system's takeover of Indian River Medical Center inches toward implementation.
As it stands, the policy indicates low-income immigrants without green cards or other documentation would not be eligible for free care at the soon-to-be Cleveland Clinic Indian River, apart from emergency room treatment when life or limb is threatened and stabilization is mandated by federal law.
Currently, there is no requirement of legal U.S. residency to receive free or reduced-cost care at IRMC. The Hospital District does not ask the question on its application for a care card, and only asks whether the patient has lived in the county six months.
Hospital District chairwoman Marybeth Cunningham said earlier this month it's an issue that attorneys from Cleveland Clinic and the Hospital District are discussing.
The requirement of U.S. residency for financial assistance is spelled out on the Cleveland Clinic Foundation website and several other places, but it apparently went unnoticed here until Vero Beach 32963 brought it to the attention of several trustees following a District meeting in late September.
That was just days before the District Board's affirmative vote on the takeover deal.
At a Sept. 27 roundtable discussion over the Cleveland agreement, Trustee Ann Marie McCrystal expressed her concern to attorneys over the discrepancy between the Clinic's policy and the Hospital District's.
"I'm thinking about the future. I'm thinking about the people who will not qualify. Heretofore, they come to our hospital and they're taken care of in an equitable manner," she said. "What is going to happen there?"
Cleveland Clinic will write it off as non-payment, replied a chorus of attorneys and trustees.
"But is that bill going to come back to us?" persisted McCrystal. "Is it a queue? I'm an OR nurse, I have to ask this. Are they going to say, 'We've had five those of this month and we're not going to take anymore?'"
"What we're talking about is the debate all over the nation. What do you do with folks who are here illegally and require health services?" asked attorney Bill Boyles, who leads the legal team helping the District navigate the merger.
Under the application for a District "care card," the last sentence reads: "All residents of Indian River County could be eligible for the District Indigent Care Program regardless of age, gender, race or migratory status."
Along with proof of earning 150 percent or less of federal poverty guidelines, care card-holders are asked to show proof of having lived in the county six months. That proof can include utility bills, a rent receipt or even postmarked junk mail. Provisions are made for homeless people who "reside" in a vacant lot; there is a simple box to check to avow they have lived in the district for six months.
Again and again, Hospital District staff and trustees stress a "care for all" policy aimed at reaching even the most socially isolated or ostracized people.
The Hospital District, along with many other health agencies including the Redlands Christian Migrant Association, does not ask if clients are "legal" U.S. residents. As a result, it is difficult to assess how many undocumented residents of Indian River County may be using the Hospital District's care.
"I wish we knew how many people we're talking about," said McCrystal. "We have no idea, because we don't ask."
In 2014, statewide, there were an estimated 850,000 undocumented immigrants, according to the Pew Research Center. That breaks out to about 4.2 percent of the population. Areas with agriculture-based economies can expect to have a higher rate of undocumented residents.
In Indian River County, that area is Fellsmere, where a large Hispanic population historically has worked in citrus and other kinds of farming.
At the roundtable discussion last September, McCrystal brought up a young nurse who had spoken up at the Cleveland Clinic presentation two days earlier. "She said she had relatives who were here illegally. She asked the question, 'Who will take care of us?' And Cleveland Clinic told her, 'We will take care of you.'"
"This is a topic of conversation that is still under discussion," said Cunningham two weeks ago. "Before closing, we will know."