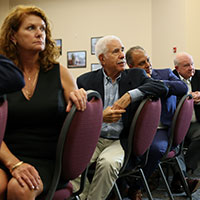 Cleveland takeover of hospital moves ahead
STORY BY MICHELLE GENZ
Photo: Leaders of Indian River Medical Center, the Hospital District and Cleveland Clinic Florida listen to public comment.

Even before this week's final votes on a Cleveland Clinic takeover of Indian River Medical Center, the mood among leaders of the hospital and the Hospital District bordered on giddy.
After multiple meetings about hundreds of pages of documents costing millions to arrive at over the past year and a half, a deal had been revealed a week ago that could define healthcare in Vero Beach for the next three-quarters of a century.
The taxpayer-owned community hospital that has limped along financially for years at break-even or below appeared to have secured its future under the auspices of an internationally vaunted brand.
Cleveland Clinic Indian River Hospital – the new name that has been selected – could be a reality by early 2019.
"Just in time for the Vero Beach Centennial!" said Ann Marie McCrystal, a trustee who with her husband Dr. Hugh McCrystal has decades of history with the hospital. "Maybe we should put the agreement in the time capsule."
"It won't fit," said the Hospital District's lead transaction attorney, William Boyles, smacking one fat packet of documents on the table.
The documents included a $250 million capital commitment over the first decade of Cleveland Clinic control; a 30-year lease with the Hospital District plus three 15-year renewal terms for a total of 75 potential years; and a significantly expanded hospital indigent care policy, the cost of which would be assumed in full by Cleveland Clinic 30 months after the deal closes.
That policy will be a boon to lower income families. It will include free care – both emergency and medically necessary – for those making 250 percent of federal poverty guidelines, or $62,500 for a family of four. That's up from the current 150 percent limit for coverage by the Hospital District. For those earning up to 400 percent of poverty guidelines – an income of $100,400 for a family of four – Cleveland Clinic will provide discounts on a sliding scale.
And if a patient's hospital expenses total more than 15 percent of a family's gross annual income, Cleveland Clinic will provide discounts to ease that burden.
During that 30-month transition, the Hospital District will pay $15 million in indigent care costs in $500,000 monthly increments. That phase-in of Cleveland's indigent coverage is intended to ease the transition of the hospital out of its current precarious financial state into profitability. The half-million dollar amount is less than the average $620,000 a month the District is currently paying,
"What we wanted to do in our negotiations with Cleveland Clinic is provide a bridge between where the hospital is now and where it will be in several years," explained Boyles.
Cleveland's offer to assume indigent care will save Indian River County taxpayers an estimated $195 million over the next 30 years, according to Boyles. Those savings will be far greater if the lease is extended for the three 15-year increments, for a total of 75 years. "And we expect they will," said Boyles.
"I've read a lot of these policies over the years; this is a very robust policy."
Boyles' estimate was in present value dollars and is viewed as being received in lieu of rent for the District-owned hospital. Currently, the hospital's rent is prepaid through 2034 as part of the existing IRMC lease.
"Rent will begin in year 31 should CCF decide to renew, and every year after that until year 75 when the lease ends," explained District Board chair Marybeth Cunningham.
At the end of the lease, Cleveland Clinic has promised to return a "working facility" to the District, and will offer any "specialized, cutting edge" equipment at a depreciated rate, a clause added at the District's insistence so as not to deter the new system from holding back on buying new equipment as the lease expiration date approaches.
As District trustees in a separate session last week listened to outside consultants analyze the deal, there was more to consider than dollars and cents, Trustee Michael Weiss pointed out.
"The quality of care is going to increase. That's truly of value to the taxpayer."
District Board treasurer Allen Jones agreed. He also called the $250 million capital outlay "huge," even though it technically shows up in the IRMC plus column, not the District's. He noted that the outlay covers maintenance while adding value to a District-owned property.
Furthermore, the generosity of Cleveland Clinic's financial assistance for low- and moderate-income patients would offer free care to at least another 10,000 residents, Jones estimated, along with some degree of help for many thousands more.
"I think it's important the public has some grasp of what's happening here because a lot of it is getting lost," Jones said. "Our obligation is not just to the taxpayer, though that's important. It's to the entire community. We're trying to measure what kind of real impact this is going to have to people. If you factor in quality of care, access to care and availability of care, that's even more."
For years, the hospital has survived in part because of Hospital District and philanthropic support. Had Cleveland Clinic or another partner system not come into the picture, taxpayers would likely have faced a hefty bond request in addition to a tax levy for indigent care to keep the hospital's doors open, consultants said.
The $250 million capital commitment – which may or may not include construction of a wing of new patient rooms, depending on whether Cleveland concludes they are needed – breathes life back into the hospital. "It's viability, it's staying alive. There was some real question about IRMC's viability going forward," said Jordan Shields of Juniper Advisory, hired last fall to advise hospital leaders on the sale.
"Leaving aside the benefit of the Cleveland Clinic relationship, what you do know is you're going to have $250 million invested in this community," Shields said. "You can very confidently say you wouldn't have had it otherwise. IRMC would have had you use your taxing authority to issue municipal bonds, and the taxpayer would have been responsible for all that."
Cleveland also assumes all IRMC liabilities.
Shields spoke to the District in a presentation last Wednesday along with the financial analysts, the day after the Cleveland Clinic deal details were revealed.
On Tuesday, it was IRMC transaction attorney Lou Glaser who outlined many of the details of the Cleveland-IRMC agreement, including how the governing board of the hospital will change under Cleveland Clinic Florida.
While the board will still have 17 members, only three will be members of the existing IRMC board. The current chair of the IRMC Foundation board as well as the chair of the Hospital District board will become ex-officio members – non-voting members who serve because of their posts. A community representative will be chosen by Cleveland Clinic from a slate of residents provided by the Hospital District Board, and there will be two representatives of the hospital's medical staff. The nine remaining members of the board will be chosen by Cleveland Clinic.
Cleveland Clinic will also be choosing a new CEO, Boyles said. It will likely a physician, in keeping with the physician-run tradition of Cleveland Clinic.
If at the end of the lease term or its renewal periods, the Hospital District wants to sell the properties, Cleveland Clinic has a right of first refusal. A sale would require a county-wide referendum.
The agreements spell out the terms of a member substitution, the typical "road map," as Glaser put it, for one nonprofit to assume control over another, in this case, Cleveland Clinic Florida over IRMC. Along with the hospital, Cleveland Clinic Florida will assume control of IRMC's subsidiaries, including the IRMC Foundation and the entities that own Vero Radiology and the Health and Wellness Center.
At the end of the lease term, those properties will remain with Cleveland Clinic Florida/IRMC. They will not revert to the District, Boyles said. "And they never would have," he added, dispelling a broadly held notion that properties acquired by IRMC would one day be owned by taxpayers like the rest of the District's real estate.
The Hospital District, meanwhile, is expected to continue its financial support for the Partners in Women's Health program, a collaborative initiative to provide pre-natal, obstetric and post-partum care to mothers who can't afford it. At a current price tag of $1.7 million a year, it dates to the 1990s and is aimed at reducing the high infant mortality rate in the county.
With IRMC providing the only maternity care in the county, OB/Gyn is one service line that few want to see disappear. The Cleveland Clinic agreement specifies that maternity care, gynecology and in-patient well-baby care are "required services" during the 10-year "commitment" period. The same is true for cardiac, cancer, gastroenterological and mental health care.
But there is an out: Any of those service lines can be discontinued if "comparable" care becomes available from another healthcare system "at a healthcare facility or hospital" within "the greater of" Indian River County or a 25-mile radius of IRMC.
Cleveland Clinic must first meet with the Hospital District and if Cleveland decides to go ahead with shutting down a line of service, it must give 90 days' notice to the public, the Hospital District and a four-person group established in the agreement as the Commitment Integrity Committee.
During that same 10-year commitment period, Cleveland can't "cause a change of control" of the hospital. It also can't change the mission of the IRMC Foundation: to raise money in support of the hospital, primarily for capital improvements.
Asked about naming rights on centers of excellence built through philanthropy, attorneys told the Hospital District board Thursday that those centers will retain their names.
Employees of the hospital can expect to keep their jobs at the same rate of pay and benefits, though IRMC employee policies may shift to better align with those of Cleveland Clinic.
As for public reporting, Cleveland Clinic will not operate under Florida's Government in the Sunshine laws, as the Hospital District must. In the amended lease, the few requirements for public reporting and meetings imposed on IRMC are gone.
But in an effort to build a positive relationship with its landlord, the Hospital District, Cleveland has agreed to report twice a year to the District trustees – once in writing, once verbally – on the health services it offers or is considering offering; capital spending; annual goals; benchmarks and achievement rates for quality; and the amount of indigent care it has provided.  It will also share a copy of the annual report it must file with the state's Agency for Health Care Administration, or AHCA.
This week's final votes on Wednesday – taken after this issue of 32963 had gone to press – involved two Vero-based boards: the IRMC board of directors and the trustees of the Hospital District, which owns the hospital properties on behalf of the taxpayers. The boards were to vote separately and both had to approve the deal.
"It would be nice if it was unanimous," said District Board chairwoman Cunningham. She, along with Wayne Hockmeyer, IRMC chairman of the board, were the two boards' designated negotiators in the deal.
Assuming the boards voted in favor of the takeover, the deal must now be approved by state and federal agencies, a process that could take three to four months, bringing the deal to a close in January or February 2019.
Glaser, a 30-year veteran of health system transaction law, remarked on the packed room at Indian River State College's Richardson Center last week, an audience that included not only older, affluent residents tied to the medical community but about a dozen young men and women in dark green scrubs, healthcare workers and students.
"In this day and age, you can do a transaction without ever seeing a client," Glaser told the group. "When you come into a room like this you're reminded that what you're really doing is about communities, patients and people. This is a great reminder to all of us that it's a privilege to be part of this process."
"This is phenomenal to hear all these things and have people throw out these challenges," said Wael Barsoum, MD, president of Cleveland Clinic Florida, at the end of the sessions' public comment period. "I give you my word that we will do everything we can to make sure you get the care that you all deserve."
"I'm excited to see that Cleveland Clinic is excited," said District Trustee Tracey Zudans.