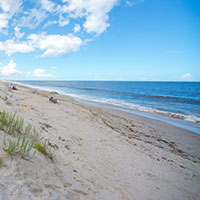 County to file suit to make section of beach in Summerplace public
STORY BY KATHLEEN SLOAN

Indian River County is likely to become the first jurisdiction in Florida to file suit to make a section of its beach public as required by a new law that went into effect July 1, according to county officials.
The "dry sand" part above the "mean high water mark" is at issue. The "wet part" of the beach is already public under the Florida Constitution.  "Customary use" or historical use by the public of the dry sand portion must be proven by the county to win a favorable judgment from the court, according to the new law.
The county gave "notice of intent" to file the suit on Oct. 2.  The suit will only focus on 2,000 feet of beach in front of Summerplace, just north of Wabasso Beach Park.
County Attorney Dylan Reingold said the suit is being filed because for the first time in the county's known history, there is a dispute over the right to use the beach.
"... the County has received a complaint from various citizens that an individual who owns a parcel of real property in Summerplace development has erected a barrier on the beach to prevent public access," Reingold said.
County Natural Resources Manager James Gray did not name the owner who he said had "put up a barricade" and "no trespassing signs," but he previously was identified in Vero Beach 32963 as Robert Jaffe of 1802 E. Barefoot Pl.
Summerplace Improvement Association President Walter Garrard provided documents he claimed showed the beach is owned communally, not individually, by those living in the development, and said the development has always welcomed the public.
Several Summerplace residents testified that they wanted the beach to remain accessible to the public.
Jaffe was not at the public hearing. His lawyer, David Earle of Stuart, was asked if Jaffe cared to comment. No response had been received at deadline.
The county must file the "Complaint for Declaration of Recreational Customary Use in circuit court in which the properties subject to the notice of intent are located" within 60 days of the Oct. 2 public hearing, Reingold said.
The law gives the private property owners 45 days after the county files to "intervene" or counter the customary-use claim. The County Commission approved up to $30,000 to pay for expert witnesses, the legal work to be done in-house by Reingold and Kate Cotner.