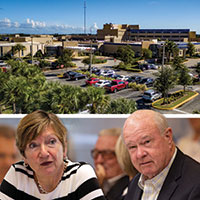 'The stars have aligned': How two Midwesterners led the way in forging the Cleveland Clinic deal
STORY BY MICHELLE GENZ
Photo: Marybeth Cunningham (left), chair of Hospital District, and Wayne Hockmeyer (right), chair of IRMC.

It was, after a quarter of a century of bickering, back-biting, and open hostility, an amazing moment of unity – unprecedented unanimous agreement by both the Indian River Medical Center board and the public Hospital District trustees on the future of medical care for our community.
By the time the final votes were taken approving the hospital's takeover by Cleveland Clinic, the chairmen of the two boards involved – the IRMC board and the Hospital District board – were in obvious lockstep. After a nearly two-year process, the two were even talking alike.
"This is one of the most important things I think the board will ever do for this community," Chairman Wayne Hockmeyer told the IRMC board of directors gathered in a hospital conference room.
And across the street at Hospital District headquarters: "This is the most important vote we will ever have as a group," said Chairwoman Marybeth Cunningham. "The outcome will have ramifications far beyond this year, or the following few years, but for decades to come in this community."
Hockmeyer and Cunningham, both Midwesterners with high-powered business backgrounds, proved a match made in negotiation heaven, a point made by IRMC board member Kathy Hendrix just before the final vote last Wednesday.
Hockmeyer, who joined the IRMC board of directors in 2011, became chairman in 2015 just as Cunningham was taking her seat on the Hospital District Board of Trustees. The board elected her chairwoman in January 2017.
"Shortly after, I met with Wayne Hockmeyer and suggested we needed to look to the future and do something," Cunningham recalled for Vero Beach 32963 last week. "Shortly after, we started the collaborative committee. And you know the rest."
"The stars aligned to have you and Marybeth Cunningham as chairmen at the same time," said Hendrix to Hockmeyer on the day of the final vote. "I think that enabled the process to run much more smoothly."
Hockmeyer is an affable, optimistic innovator of vaccines and immunotherapy, a retired Army officer and chief of the department of immunology at Walter Reed Army Institute of Research. A graduate of Purdue with a Ph.D.  from the University of Florida, Hockmeyer founded MedImmune in 1988, which became one of the top biologics companies in the world.
Cunningham is daughter of a president of General Motors, the late Jim McDonald, a longtime resident of Vero. She retired in 2009 as executive director of global operations for Delphi Packard Automotive Systems, a company with $5 billion in annual revenues.
She joined the Hospital District board after besting Laura Moss, who subsequently became a Vero City Council member, in the November 2014 election. That race drew a record number of voters for the low-profile, unpaid post.
Cunningham was viewed as a supporter of the hospital and expressed a belief to Vero Beach 32963 that a more diplomatic approach to asking tough questions of the hospital would result in less divisiveness. The relationship between the hospital and the district was finally showing signs of improvement, and Cunningham said "confrontation undermined confidence in the hospital and hurt donations."
That tenuous truce would prove crucial to IRMC's future. As Hockmeyer said at both the initial presentation on the definitive agreement with Cleveland and the final vote a week later, the board of directors of the hospital had been debating the issue for years, including through the worst of the battles with the Hospital District trustees.
"This board really has been engaged in discussions on this very topic for at least four or five years," he said. That would take discussions back to at least January 2014, when Hospital District trustees were locking horns with IRMC officials, complaining about opacity on the part of hospital administrators and balking at requests for more taxpayer funds.
At the same time, patients were telling horror stories of their experiences in the IRMC Emergency Room, including some covered in Vero Beach 32963. Those accounts in turn were souring donors, provoking bitter complaints from former hospital CEO Jeff Susi. Those donations, along with the Hospital District's reimbursement for indigent care, were keeping the hospital afloat.
"This hospital is sinking downhill to a dangerous level," said the late Dr. Burton Lee, a District trustee and revered figure in healthcare. He blamed "most of the hospital board" for rarely questioning anything, in his words.
By the time the collaborative committee invited nationally known consultant Jamie Orlikoff to speak in the fall of 2017, Hockmeyer and Cunningham's joint alarm had sounded, and Orlikoff's warnings were a call to arms. "Your model is the most particularly compromised model for hospitals that there is right now," he told IRMC officials.
A year later, as leaders hoped, the vote to become part of Cleveland Clinic's new Florida expansion was unanimous by both boards, taken separately but at the same hour last Wednesday, Oct. 3 – high noon, as one director put it.
Directors and trustees had spent nine days reading over a multi-hundred-page agreement, drawn up at a cost of multiple millions in attorneys' and consultants' fees. That didn't include the costs to the other health systems competing for IRMC, eight with preliminary proposals and four with both preliminary and secondary proposals.
For the final four systems vying to take over Indian River Medical Center, there were also hours of presentations from C-suite executives – plus some very busy physicians – both in Vero and at their top hospitals, where visiting IRMC and Hospital District board members were welcomed with red-carpet tours. 
IRMC had likely never felt so desirable. Not that it went to anyone's head, but at the final votes on Wednesday, there was nostalgia for the leadership that had built the hospital – board member emeritus Dr. Hugh McCrystal pointed out attorney William Stewart sitting in the gallery, and reminisced about the vote in 1984 to let a separate company, IRMH Inc., take over the running of the hospital from the Hospital District.
There was no mention of the leadership that had brought IRMC to the brink; former CEO Susi's unexpected retirement, announced in the wake of a $4 million loss that prompted pursuit of a takeover, was effective this past December.
While the final vote was unanimous, each board had its naysayer. At the IRMC board's meeting, the doubter was Keith Morgan, a retired CPA. He questioned the priorities listed under Cleveland's $250 million capital commitment, which included routine maintenance.
"In my mind, routine maintenance is fixing something that's broken, existing things. It's not a capital project," said Morgan.
It turns out, it was the Hospital District that requested routine maintenance be included in the list of priorities since it owns the buildings and is leasing them to Cleveland Clinic.
"The parties insisted on including it," explained Lou Glaser, the hospital's lead attorney in the partnership process. "The district was concerned, because they lease the facilities, that if money wasn't committed the facility could in theory be allowed to fall into disrepair."
Along with routine maintenance, the agreement mentions non-routine development; improvement and expansion of facilities; information technology; and strategic capital investments including the acquisition of businesses. There is also mention of an outpatient surgical center.
Notably absent from the list is a bed tower, the industry term for a wing of patient rooms. That long-hoped-for addition to IRMC may be dropped if anticipated changes in healthcare make hospital stays increasingly rare.
"One of the things that makes Cleveland Clinic such a good partner is that these decisions should be made in light of whatever the dynamic is in the community at the time," said attorney Glaser. "We didn't want to lock in something two years from now if it didn't make sense in light of what's happening in healthcare in a rapidly challenging environment."
In addition, the agreement provides for a committee designed to make sure those promises are fulfilled and can bring an action if they are not, Glaser said.
There was resistance at the Hospital District's meeting, too, chiefly voiced by two of the seven trustees, Tracey Zudans and Michael Weiss. Zudans called it "the perfect partner and the wrong deal."
"I have been disappointed since Day 1 with the minimum $250 million being the lowest capital expenditures of the four (candidate health systems)," she said. "So I was hoping the capital expenditure would be presented as higher.
"Second, we were given a verbal agreement that indigent care would be covered on the day we selected the Cleveland Clinic as our finalist. Not only is Cleveland Clinic asking for $15 million over the next three years, there's nothing in the contract preventing them from coming back and continuing to ask for $6 million or so every year in the future from the Hospital District," she went on. "It's our responsibility to fix these issues before we vote."
Transaction attorney William Boyles pointed out that while Cleveland Clinic Florida does have the right to change its indigent policy statewide, Indian River's new policy will be the same as the Cleveland, Ohio  hospital's policy. "For that to change, it would have to be a systemwide change."
Weiss agreed with Zudans' concerns, and voiced his own about a clause in Cleveland's 10-year commitment to maintain certain critical services like obstetrics at the Vero hospital. The clause says Cleveland can terminate those services if "comparable care" is provided within a 25-mile radius. Weiss brought up a possibility: What if the comparable care is at another Cleveland Clinic location?
At that point, Cunningham made the case for the old saying: "A good deal is when neither side is happy."
"Could we have made a better deal? Maybe. Could we, with somebody else, have had more money? Probably. But I think when you're putting together a 30- or 75-year lease, in healthcare, you have to be able to look at all the changes or potential change. From Cleveland Clinic's point of view, they're saying, I don't know in 20 years what healthcare is going to be like. There may not be any bed towers in 25 years. It could be that they're doing acute care services from their home.
"It's scary," she went on. "This is a big deal and it's scary and I get that. A lot. From my perspective, I prefer to go into it believing that they're going to be a great partner, and that they're going to stick to their word, and their words have continually been, 'We believe in staying in the community. We believe in building here.' They've told us that continually."
She said it seemed implausible that Cleveland Clinic would send its Vero patients to another provider under the "comparable care" proviso. The inference: Cleveland Clinic's care is incomparable. "They are very, very concerned about their reputation," she said.
When Trustee Ann Marie McCrystal had her turn, she found her voice as historian. "I can remember when we were looking for the land to build this hospital," she said. "There was controversy: it's too close to the airport; somebody owns too much land.  There was controversy even building Indian River Boulevard. So, you know, you have to have a little bit of faith. I think we chose wisely for this community. I think the plan they have for Cleveland Clinic Florida is exciting. We will be a part of that."
Trustee Allen Jones, a notorious numbers guy, had been at it again. He calculated the value to the community of Cleveland's additional coverage of indigent care, which it provides to patients with incomes that fall under 250 percent of federal poverty guidelines – far more generous than the District's current ceiling of 150 percent for free care. And beyond that, Cleveland will give discounts to people earning up to 400 percent of poverty guidelines. All that, added to the rent the District would receive after 30 years, and "you start to get close to $1 billion," he said.
"I actually have more faith in Cleveland Clinic knowing what's happening in healthcare than I do in myself or even the board of IRMC. I think we're going to be at a whole other level," Jones said.
Then he brought up a bit of history that would have made Cleveland Clinic Florida uncomfortable: the closure of the only other hospital it ever tried to open beyond Weston. Built in 2001 – the same year the Weston hospital opened – the Naples 90-bed hospital shut down less than five years later, because, among other issues, neighboring hospitals persuaded the state not to issue it a Certificate of Need for cardiac surgery, the Clinic's signature medical specialty.
"They went to Naples," began Jones, "and for whatever reason, they didn't feel welcome and they left. Shame on us if we let that happen. I think we're doing the right thing for the whole community, and we ought to figure out a way to make them not only proud, but obligated to be here and fulfill every single thing they have in this contract. I agree with Ann Marie: Some of that requires faith."
McCrystal had hit the church-going Zudans with a little pressure from on high. "I said a little prayer last night that I hope we will vote unanimously. That would say something to the community."
Zudans, seated to her right, is admired for her diligence but known on the board as nixing nearly everything. She had come in as a 'no,' she admitted later, and changed her mind only at the last minute.
"I've been talking to a lot of people in the community and they already think Cleveland Clinic is here, so I wouldn't want to disappoint them. I will vote 'yes.'"
"Good girl!" exclaimed McCrystal. "It's your first 'yes' vote!"
As for Weiss, he looked stricken on his first two tries to say "yes," and barely mouthed the word on the third. Two other trustees, Karen Deigl and Barbara Bodner, also voted yes. It was Cunningham who cast the final vote. "Absolutely," she said.
That moment of accord struck even the most jaded of consultants and attorneys in the room.
"We're making you people famous across the country," said Barry Sagraves, managing director of Chicago's Juniper Advisory, hired by IRMC to chart the path to partnership. "We've never seen two groups that used to want to kill each other actually come together and develop an outcome for the community in this way. And there are more and more district hospitals, county hospitals, hospital organizations with a government entity and a nonprofit entity, that are considering these things, most of whom have some history of difficult relations.
"Our message to these other people is if they've got the right leadership and the right attitude, they too can come up with an outcome like this. The future doesn't have to look like the past. Thank you for being part of our pitchbook. You're going to see yourselves mentioned around the country."