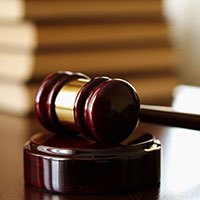 Island physician settles injury dispute with drilling company
STORY BY FEDERICO MARTINEZ

An underground utility firm contracted by the City of Vero Beach for work along A1A has reached an out-of-court settlement with one of two island residents who filed separate lawsuits claiming they were injured due to the company's negligence.
Prominent podiatrist Keith J. Kalish, 57, and Coastal Drilling and Backhoe, Inc. of Jensen Beach, reached an agreement on Sept. 25, according to Indian River County court records. The case was scheduled for trial Oct. 16.  No details of the settlement were disclosed.
Kalish filed the suit after allegedly tripping over a coiled steel cable while jogging past Coastal Drilling's workspace near the 900 block of A1A.
During his pre-trial statement, Kalish said that he sustained serious and permanent injury to his right leg during the fall which occurred on Sept. 14, 2016.
He contended that Coastal Drilling negligently maintained the worksite by placing the coiled cable partially in the sidewalk.
Coastal denied the allegations and maintained that it was Kalish's own negligence that caused the accident, claiming that he was running in the dark and not watching where he was going.
A second lawsuit filed on Nov. 29, 2017 by William Borrow, 81, against the utility company is still pending.   He was injured when he ran into a pipe on his bike near Bahia Mar Road.