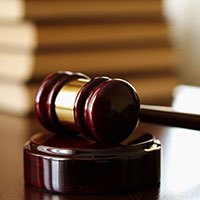 Judge loosens bail conditions for acupuncturist Jaynes
STORY BY FEDERICO MARTINEZ

Vero acupuncturist Jill Jaynes, facing multiple charges of fraud and racketeering, can remove her GPS monitor but remains banned from having any involvement with her once-booming clinic Absolute Integrated Medicine.
Circuit Court Judge Robert Pegg rejected Jaynes' request to return to work at the clinic during an Oct. 10 hearing.
"My original decision forbidding her to work at, or in any way be involved with Absolute Integrated Medicine, stands," Pegg announced in court. "However, she's not forbidden to work someplace else as an acupuncturist – if anyone will hire her – and as long as she has nothing to do with insurance or billing."
The judge's ruling appeared to confuse many of the 40 friends, patients and relatives of Jaynes who crowded into the small courtroom. Jaynes, 56, did not speak during the hearing and declined to comment after leaving court.
She is facing five felony charges that she conspired with others to defraud an insurance company by submitting false or incomplete information, illegally waived patient copayments and deductibles, and unlawfully paid others who referred patients for treatment.
She filed a written not guilty plea with the court on Sept. 20. A trial date has not yet been set.
Jaynes was arrested on Aug. 22 and charged with fraud and racketeering, with bail set at nearly $1 million. Pegg a few days later agreed to reduce bail to $455,000 but also added three conditions, including that she forfeit her passport, wear a GPS monitor and no longer be involved with Absolute Integrated Medicine.
Last week, Pegg  was swayed to allow Jaynes to remove the GPS device, despite concerns by Assistant State Attorney Lev Evans that Jaynes could be a flight risk.
Evans said that despite Pegg's orders, it appeared Jaynes was still involved with Absolute Integrated Medicine's day-to-day operations. Jaynes is also still listed as the business owner.
"We're concerned that the clinic is still open and active," Evans said. "Our concern is that she's still doing that. But law enforcement has told us that they don't have the resources to watch her."
Attorney Brooke Butler, who is representing Jaynes, did not address Evans' allegations. She argued that it was unfair to prevent Jaynes from working  while her case is still pending.
"It's undue process," Butler told Pegg. "Right now, she's innocent. She's abandoning everything she's ever known all her life."
Butler said news articles published by Vero Beach 32963 prompted the State Department of Health to recently launch an investigation into Jaynes' business actions and Absolute Integrated Medicine.
She suggested the court allow the health department to determine if Jaynes' license should be suspended and her if clinic should be shut down.
"DOH can shut the business down immediately if they find it unsafe or discover any other problems," Butler said. "They've been investigating and haven't come in and suspended anybody's license. There's nothing in this case; it's about billing practices. It's not up to you or the state attorney to decide whether she can practice."
Assistant state attorney Evans and ultimately Judge Pegg disagreed.
Evans argued that the charges against Jaynes aren't just about billing procedures and said the acupuncturist is accused of being involved in a criminal enterprise that hurt many residents and businesses.
Evans pointed out that Jaynes earlier agreed to the conditions in order to get her bond amount lowered. She shouldn't be allowed to return now and ask for all those conditions to be discarded, he added.