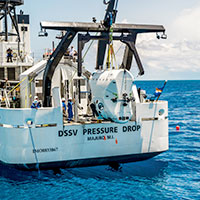 Manned sub to dive to deepest spot in world's oceans
STORY BY SUE COCKING
Photo: Manned sub built by Triton Submarines will dive to deepest spot in world's oceans.

Sebastian-based Triton Submarines next month will launch the world's first manned expedition to the deepest point in each of the world's five oceans.
Over the next year, the company's brand-new two-person sub will dive to nearly 36,000 feet in the Pacific's Mariana Trench – the deepest spot in the world's oceans – in addition to four other explorations to the bottoms of the Arctic, Atlantic, Southern and Indian oceans. A dive to the World War II wreck of the U.S.S. Indianapolis in the Philippine Sea also is planned.
Along the way, the sub and its 224-foot support ship staffed by engineers and scientists will map the deep oceans and collect and analyze geological and marine life samples from the sea floor – all documented by a Discovery Channel crew for a series to air in 2019/2020.
"It will do important work and have access to large swaths of the deep oceans we don't know anything about," said Triton president Patrick Lahey. "It's the greatest project I've ever had the privilege of being a part of in my life. It's the realization of a lifelong dream to build something like this."
Lahey, who founded Triton 14 years ago in Vero Beach and recently relocated the company to a larger warehouse in Sebastian, was approached by Dallas financier and mountain climber Victor Vescovo some 3 1/2 years ago with the idea of the project now dubbed "Five Deeps."
"In 2015, I was very surprised to discover that no one had ever been to the bottom of four of the world's oceans," Vescovo, 52, wrote in an email to Vero Beach 32963. "I've always loved a great physical and technical challenge and, like those currently attempting to push space technology to the limit, I thought it would be a great goal to push the absolute limits of marine technology."
And Vescovo wanted to pilot the sub himself.
Lahey and his 30-person international team designed and built the vessel out of  3 1/2-inch thick titanium alloy to withstand near-freezing sub-surface temperatures and external pressures of more than 16,000 pounds per square inch. Weighing a little over 11 tons, the sub is about 15 feet long, 9 feet wide and 12 feet in height. It runs on powerful batteries. 
At an average speed of three knots, it is expected to reach the ocean floor in a couple of hours and stay down for as long as 12 hours. It is equipped with a bank of 10 LED lights,  four broadcast-quality video cameras, three wide viewports, a collection arm for sampling – and even comfortable leather seating.
The Five Deep support vessel is a refitted former National Oceanic and Atmospheric Administration science ship. 
Five Deep's inaugural mission is slated for next month to the Puerto Rican Trench, where it will go down more than five miles, descending to a depth of more than 28,000 feet.