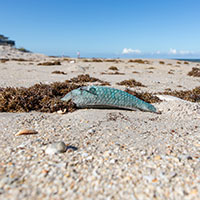 Red tide puts big damper on outdoor dining
STORY BY RAY MCNULTY

The toxic red tide that has closed local beaches, killed thousands of fish and caused throat irritation and respiratory problems for some island residents and visitors has also left some beachside businesses wheezing – especially restaurants that offer outdoor dining.
"I'd say my business is off about 80 percent every day," Seaside Grill owner Dan Culumber said Monday from his open-air restaurant at Jaycee Park. "It's very slow and it's hurting us, but the whole beach area is going to be dead until the beaches reopen and people feel it's OK to be out here again."
Lee Olsen, general manager of Waldo's restaurant, offered a similar description of business at his oceanfront establishment since the red tide arrived in Vero Beach last week.
Olsen said the red tide forced him to close down the restaurant's deck area and offer only indoor dining – something that noticeably impacted his lunch receipts, which he said where down more than 75 percent on Friday.
"We attempted to open the deck Thursday, when it seemed to back off a bit, and some people stayed out there," Olsen said. "But a lot of my employees were wearing masks."
Olsen said he has sent some of his staff home each day because business was so slow.
Also feeling the effects of the red tide was Mulligan's Beach House Bar & Grill at Sexton Plaza, where manager Justin Cornell said 70 percent of the seaside restaurant's diners typically choose to sit outdoors.
"We're down significantly," Cornell said. "There's not a lot of business coming off the beach. Since this thing hit, there aren't a lot of people coming over to the island."
Vero Beach's two resort hotels also saw a slight drop in business in the wake of the red-tide headlines, which prompted some would-be guests to cancel their reservations.
Awet Sium, general manager of the Vero Beach Hotel & Spa, said some reservations were cancelled but many guests decided to stay, including those who attended a wedding on the premises.
"It's a tough time," Sium said. "It's very difficult for some guests to be out back, especially when the wind is blowing the wrong way, but what I've come to find out is that the effects vary with the person.
"Still, we had a good weekend," he added. "We didn't have an excess of cancellations."
Asked for a comment on how the red tide was impacting business at Costa d'Este Beach Resort & Spa, the hotel's sales and marketing director, Amanda Aucoin, replied with an emailed statement:
"Costa d'Este is seeing business as usual this week, with the same expectation for the weeks ahead, following some slowing last week due to red tide. Our guests are out and about, enjoying the beautiful weather, our swimming pool and other resort amenities."
She also wrote that the resort is staying in contact with city officials for information on when the beaches will reopen.
As for the Driftwood Resort, which also offers timeshare rentals, the red tide prompted some cancellations and early departures.
"Usually, at 10 a.m. on the day of departure, people are dragging their feet, not wanting to leave," Olsen said. "But one day last week, I came in at 8 a.m. and there were only four cars in the parking lot."
The Saturday morning crowd at Vero Beach's popular Farmers Market Oceanside was noticeably smaller than usual for this time of year.
"It was more like a summer market than a seasonal market," said Oceanside Business Association Treasurer Al Benkert, the group's vice president for events. "It was busy, but not crowded. So the red tide is definitely having an impact."
Despite the difficult times, the seaside business owners and managers praised the city's efforts to make a bad situation more tolerable by quickly removing dead fish from the beaches.
Vero Beach City Manager Jim O'Connor said Monday he has received no complaints of the red tide's effects on the mainland air quality.
The question the beachside business owners are asking now: When is this going to end? Several of them referred to news stories about another batch of red tide moving through the Florida Keys, wondering if it will come up the east coast.
"The good news is that the season is just starting," Culumber said. "As bad as it it's been, it would be much worse if this happened in January, February and March."