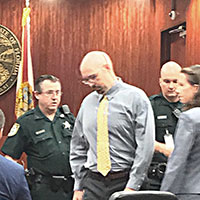 Trial of accused killer of Diana Duve seen finally starting early in new year
STORY BY FEDERICO MARTINEZ
Photo: Michael David Jones is expected to finally stand trial in early 2019.

More than four years after the gruesome murder of 26-year-old nurse Diana Duve, her one-time boyfriend Michael David Jones is expected to finally stand trial in early 2019.
Jones, 35, is accused of strangling Duve, a resident of The Moorings, at his Vero townhouse, then putting her body in the trunk of her black Nissan Altima and driving to Melbourne where he abandoned the car in a Publix parking lot.
Jones could face the death penalty if convicted.
Assistant State Attorney Brian Workman and Assistant Public Defender Stanley Glenn, who is representing Jones, informed Judge Cynthia Cox during a Sept. 26 hearing that they are wrapping up the last witness interviews and are almost ready to start the trial. A Dec. 6 status hearing has been scheduled to determine if a trial date can be set.
"The defense has deposed all witnesses and is waiting for the prosecution," Glenn told Cox. "We're ready."
Jones, who has pleaded not guilty to the first-degree murder charge, did not appear in court for the status hearing.
Workman said he needed a little more time to interview the last few witnesses, including the medical examiner, who had a last-minute scheduling conflict.
Duve was found by police after her mother reported her missing and co-workers became concerned when she missed her shift as a Registered Nurse at Sebastian River Medical Center.
A multicounty investigation was launched, with the Vero Beach Police Department as the lead agency since the young woman was last seen alive at What-a-Tavern on Royal Palm Pointe on the night of her death.
Jones and Duve had a history of violent, destructive behavior, according to depositions from friends and co-workers. Jones, who was working as a banker at the time of his arrest, had previously been convicted of aggravated stalking in Broward County in an incident involving a different woman and was on probation when police tracked him to a Fort Pierce hotel room after Duve's body was found.
The case has dragged on as Jones faced court proceedings in Broward County and attorneys played a game of legal chess by making motions and counter motions, including Glenn's attempt to get the death penalty dismissed for his client.
Cox in July denied nine out 10 of the defense's motions related to disallowing the death penalty. One motion resulted in a compromise whereby prosecutors and defense attorneys would agree on proper jury instructions to emphasize that the jury's recommendation on the death penalty upon conviction is significantly more binding than just advice to the judge.