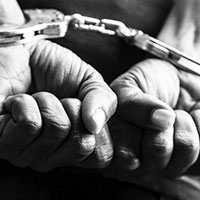 Vero man arrested for trying to sell homemade bomb
STORY BY RAY MCNULTY

"Vietnam meets ISIS."
That's how a 35-year-old Vero man described a homemade bomb he offered to sell to a U.S. Bureau of Alcohol, Tobacco and Firearms undercover agent, according to federal court records.
The bomb was "comparable" to the two pressure-cooker devices detonated near the finish line of the Boston Marathon in 2013, which killed three people and injured hundreds of others.
Three weeks ago, a federal grand jury in Fort Pierce handed down an indictment charging Derek Matthew Condon with possession of unregistered firearms – two improvised explosive devices (IEDs) and a silencer for an AR-15 semi-automatic rifle – and the illegal transfer of a firearm, referring to the sale of the silencer.
ATF Special Agent Seth Christy alleged in his report that Condon sold the silencer to the undercover agent for $300 on Aug. 30; during the same meeting Condon offered to sell the bomb for $1,200. The purchase was arranged by a confidential source who accompanied the agent to the garage at Condon's home on 1600 block of 20th Avenue SW in Indian River County.
Condon, a New York native who has lived in Florida for 17 years and worked locally as a glass and mirror installer, was arrested later that day. If convicted, he faces up to 10 years in prison, a $250,000 fine and three years' probation on each of the two felony counts.
At a detention hearing in Fort Pierce, U.S. District Court Judge Shaniek Maynard, citing the dangerous nature of the crimes and the "substantial" weight of the evidence, ordered that Condon be held without bond.
The judge acknowledged that Condon does not have a "significant criminal history."
However, Maynard wrote that he couldn't ignore Condon's ability to make home-made bombs using materials readily available to the public, or Condon's willingness to sell the explosives to "someone he'd been incarcerated with," referring to the confidential source, and "someone he did not know," meaning the undercover agent.
Maynard also noted Christy's testimony that the bombs could be detonated inadvertently by being exposed to excessive heat in Condon's garage.
"Thus," the judge wrote, "the defendant's activity created a danger not only to those who would be harmed in an intentional bombing situation, but also to those in close proximity to him and his home."
Maynard placed Condon in the custody of the U.S. Marshals Service, but neither Assistant U.S. Attorney Marton Gyires nor Federal Public Defender Panayotta Augustin-Birch, both based in Fort Pierce, would say where Condon is being held or offer any comment on the case.
The ATF learned of Condon's illegal activities on July 5, when a confidential source contacted the Florida Department of Law Enforcement's West Palm Beach office, Christy wrote in his report.
According to the report, the source had a pending felony case against him in state court and was hoping the FDLE would intervene on his behalf in exchange for information about someone who was "manufacturing silencers and machine guns for sale" in the Vero Beach area.
FDLE contacted the ATF, and Christy – along with FDLE agents Thomas Bacon and Raul Perez – interviewed the informant, who said he had met Condon while both were in the St. Lucie County Jail, where Condon told him of his "ability to manufacture silencers and to convert semi-automatic AR-15 rifles into fully automatic machine guns," court records state.
Court records state that the source had covertly recorded one of his weapons-related conversations with Condon and played the recording for the agents, prompting the ATF to begin recording "controlled phone calls" in which the source negotiated the purchase of a silencer from Condon.
On Aug. 22, the source told the ATF the silencer was ready and that Condon had offered to sell it for $300. The source said Condon also told him he would have "additional explosive devices available for purchase" when they met.
The source agreed to meet at Condon's home at 5 p.m. Aug. 30 and brought along the undercover agent, who completed the purchase, which was made in the garage with three $100 bills.
According to court records, Condon then showed the agent a home-made bomb, which Condon affectionately called "Napalm" and described as "Vietnam meets ISIS," and offered to sell it to him for $1,200.
After leaving Condon's home at 5:25 p.m., the undercover agent told a member of the St. Lucie County Sheriff's Office's bomb squad he had observed a pressure cooker, a clear plastic jar containing clear fluid, a dismantled alarm clock, a 9-volt battery, a kitchen timer, lamp fuel, charcoal briquettes, loose wires and a soldering iron.
Bomb squad members concluded that the agent's observations were "consistent with a destructive device," and the ATF obtained a search warrant.
A search of Condon's home uncovered a second pressure cooker; an explosives expert said both devices were "readily convertible to being fully functioning bombs" that met the federal statute definition of a destructive device, court records state.