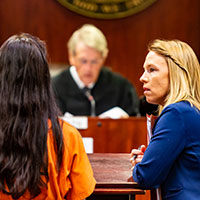 Acupuncturist Jill Jaynes pleads not guilty to felony charges
STORY BY FEDERICO MARTINEZ
Photo: Defense Attorney Brooke Butler (R) confers with her client Jill Jaynes at a bail reduction hearing.

Jill Jaynes, who ran the once-booming acupuncture clinic Absolute Integrated Medicine, has pled not guilty to multiple charges of fraud and racketeering in connection with the clinic's operation. She is seeking a jury trial.
Jaynes had been scheduled for arraignment on Wednesday, Sept. 26, but her attorney, Brooke Leigh Butler, filed a written not guilty plea with the court on Sept. 20. A trial date has not yet been set.
Jaynes is facing charges that she conspired with others to defraud an insurance company by submitting false or incomplete information, illegally waived patient copayments and deductibles, and unlawfully paid others who referred patients for treatment.
Butler has called the charges "inflated and exaggerated." Neither Butler nor Jaynes could be reached for comment.
County officials said Jaynes was attracting so many customers because she was waiving patient co-pays – essentially offering them free services, while billing the county and Florida Blue Cross Blue Shield, which insures county employees, for $1.5 million.
She was arrested on Aug. 22 and charged with fraud and racketeering.