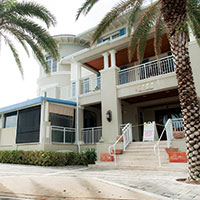 Citrus Grillhouse now hoping to reopen from fire by Valentine's Day
STORY BY RAY MCNULTY
Photo of the Citrus Grillhouse.

When the Citrus Grillhouse finally reopens for business in February, the fire-damaged, seaside restaurant will have been closed for nearly 11 months – long enough, in many cases, to have become an afterthought.
But not in this case.
"Usually, when a restaurant goes through something catastrophic, like we did, it loses momentum," Citrus Grillhouse chef/co-owner Scott Varricchio said last week. "But based on the chatter I'm hearing locally and the feedback I've received in emails and letters, we might've actually picked up steam.
"Almost every day, in one way or another, someone asks me when we're going to reopen," he added. "So we're still on people's minds, still on the radar, and I'm so thankful we haven't been forgotten.
"If anything, there's a lot of anticipation about when we're going to reopen."
That was supposed to happen in October, or so Varricchio thought. But the process of collecting from his insurer proved to be more challenging – and take far longer – than he expected.
It wasn't until "recently," he said, that he received the "first large installment" from the insurance company and could embark on a complete renovation of the popular dining spot, located at 1050 Easter Lily Lane in the Ocean Park complex by Humiston Park, where a kitchen fire in the wee hours of March 27 resulted in massive water damage.
County fire inspectors ruled the blaze, which wasn't discovered until 5:30 a.m., an accident.
"We're just getting started on reconstruction," Varricchio said. "There was so much damage, we had to gut the place. We've submitted our plans to get the necessary permits. Once we get them, we're ready to go.
"Everything has been designed and picked out – the flooring, walls, lights, sound-dampening equipment, etc. – and it's on order," he added. "It was just a matter of getting the money."
Varricchio and his business partner, Matt Gaston, are confident they'll be back in business in early February.
"We've been playing the holiday game," Varricchio said. "First, we were looking at being open for Halloween, then Thanksgiving, then Christmas. Now, we expect to be open before Valentine's Day."
When it reopens, Varricchio said, a "new-and-improved" Citrus Grillhouse will have a different look and feel, and the setting will be noticeably quieter.
The layout will be familiar – the bar, kitchen and dining room will be in the same places – but Varricchio said a new decor will give the restaurant a "little bit more formal" ambiance.
"You're going to walk in and it will look like a very different restaurant," Varricchio said. "It'll be the same footprint, but we're doing a complete redesign. We're going with softer tones to get a warmer feel.
"I'm really looking forward to seeing it once it's done."
Varricchio also plans to revamp the menu, which he said will include only two carryovers from the restaurant's previous offerings.
"Right now, it's up for grabs," he said. "I've been traveling around the country, visiting restaurants that I respect and sampling what they have. Before we reopen, we'll do some testing and have some family-and-friends dinners to test the new menu and see how our kitchen pulls it off."
Varricchio, who was in New York last week to attend what he called an "exclusive, high-end chocolate camp" offered by a renowned French pastry chef, continues his travels this week after spending a few days in Vero.
He's jetting to San Francisco to work and observe the staff at famed French Laundry, located in the Napa Valley and annually rated among the world's best restaurants.
"It might be the best restaurant in the country, so I feel very blessed that they're letting me into their world," Varricchio said. "This a great opportunity for me to see what the best of the best do."
He'll then share what he has learned with his new staff, which he expects to include many of those who worked for him before.
"A large portion of our old staff is biding time at other establishments," Varricchio said. "Once we're ready to pull the trigger, they're coming back – about 60 percent of them, anyway. We employ about 70 people, so, considering that we'll have been closed for almost a year, that's a good number."
According to Varricchio, the fire was caused by a kitchen employee who, while cleaning up after the restaurant had closed, unknowingly turned on the burner where a five-gallon pot containing oil strained from the fryer had been placed to cool.
He said the pot was so large that nobody noticed the burner, much smaller in diameter, was lit before the staff left for the night at 10:30 p.m. The fire caused the 8-year-old restaurant to lose power, so the owners were unable to view surveillance video to determine exactly when the blaze started.
It wasn't until early the next morning that a resident of one of the apartments above the restaurant called 911 and reported seeing smoke in the courtyard. Firefighters responded immediately and needed fewer than 30 minutes to extinguish the blaze.
The most significant damage, Varricchio said, was done by water – some from the sprinkler system, most from inside-the-ceiling PVC pipes that burst when exposed to the fire's extreme heat for several hours.
Fortunately, Varricchio said, he and Gaston also had purchased interruption-of-business insurance coverage. The payments will make the closure of the restaurant from October through January – the first half of Vero Beach's busy season – less painful, at least financially.
"This isn't what we wanted," Varricchio said. "Still, looking at a worst-case scenario, what happened wasn't as bad as it could've been."