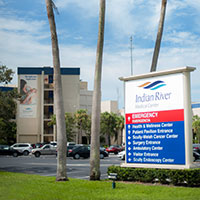 Indian River renovates hospital rooms as merger looms
STORY BY MICHELLE GENZ

It's a visit no one looks forward to, but a stay that gets rated more rigorously than any hotel. That's because the comforts of a hospital room have ramifications well beyond rest: A patient's recovery can be speeded by a well-designed room, studies show, lowering the risk of infections and falls, and boosting the immune system with sunlight and serenity.
That's why last summer, as Indian River Medical Center was beginning its search for a deep-pocketed partner, hospital officials dipped into a budget barely in the black and found more than $1 million to begin renovating its rooms.
"We thought, don't wait for a new tower, let's take care of the home we live in," said Rick Van Lith, who updated the Indian River County Hospital District Board last week on how renovations are going.
Like the proverbially high cost of a hospital Band-Aid, this quick fix was pricey – $1.2 million for the first 96 rooms, with a similar amount being discussed for next fiscal year – but not nearly as pricey as the major patient room addition IRMC had been contemplating.
In fact, it was the cost of a new patient tower and IRMC's inability to afford it that helped launch the search for a well-heeled partner.
Hospital leaders first discussed a $100 million addition in the fall of 2016, but ditched the idea when first quarter financial results came in that showed a $4 million loss.
In the face of continuing losses, hospital officials formed a collaborative committee to take a hard look at whether IRMC could survive as an independent nonprofit hospital. The consulting firm they hired to advise them, Stroudwater Associates, reinforced the idea that IRMC could not afford the needed expansion.
Stroudwater suggested a new bed tower would actually cost $170 million and said financing such a project would be ruinous for the struggling hospital, likely earning IRMC a junk rating in the bond markets. Philanthropy, of the ilk that built the stunning cancer center two years earlier, would be "inadequate" to reduce the risks associated with "the gap between IRMC's resources and needs."
At the same time, the consultants stressed the urgency of building a new patient tower to keep up with the Jones. According to Stroudwater, IRMC had just five years to bring IRMC's 40-year-old "chassis" in line with competing hospitals.
Among the competing hospitals Stroudwater had in mind was Sebastian River Medical Center, a 20-minute drive from IRMC. At the time the hospital, built in 1973, five years before IRMC, had just been bought by Steward Health and was adding an all-new three-story bed tower.
The $62 million project, though delayed after the change in ownership, resumed in May with a target completion date of late 2019, said spokeswoman Donna Jones last week. At 94,000 square feet, the tower would add 48 private rooms and 10 operating rooms, along with an area for physical therapy and rehab.
The construction will increase Sebastian River's capacity by 30 percent, to more than 200 beds. Along with the tower, another 20,000 square feet in the existing low-slung structure will undergo renovation, Jones said. Hospitals in St. Lucie and Martin counties also are upgrading and expanding.
After Stroudwater's discouraging presentation, hospital companies around the country began making pitches to take over IRMC. And a new bed tower was a top priority in every presentation.
The hospital's various boards eventually chose to be acquired by Cleveland Clinic, which has promised to spend at least $200 million upgrading and expanding the Indian River medical campus, building a new patient tower and more.
In the meantime, hospital officials are pushing ahead with renovation of existing rooms to help IRMC stay competitive. The redo started last October, when hospital occupancy is typically low, and began with the East Tower, the largest of three wings that jut out like spokes from the central hub's front façade.
"You would think that would be an easy thing," Van Lith told trustees. "But the plumbing in our facility runs up and down, so you couldn't just take out a floor; you had to take out two rooms on the second floor, two rooms on the third floor, two rooms on the fourth floor, and two rooms on the fifth floor."
Starting with two or four rooms on each floor, depending on how many patients the hospital had, workers placed polyethylene barrier sheeting over the doorway, maintaining negative air pressure within the room, to guard against construction-related airborne infection – hospital renovation poses unique risks of pathogens getting into the patient environment, and the CDC has strict guidelines, enforced by the accreditation group, the Joint Commission.
They yanked out the linoleum flooring, tore down a half-wall and the sink in front of it that bisected the room in an awkward way. They ripped out dated toilets and their weird metal "handlebars," as Matt Depino called them; he has been IRMC facilities director for the past decade. And the entire shower stall came out – to the relief of cleaning crews who had to scrub hopelessly stained grout lines between tiny square tiles, never mind discolored metal drains.
A larger, solid surface shower base was installed, along with modern safety bars. Insulation was inserted where there had been none. Wall tiles in a more contemporary design were laid, and an interior closet was relocated, freeing up more space in the room. Fresh paint completed the facelift.
Amazingly, all that work seems not to have disturbed many patients, Van Lith said. If it did, "we gave them headphones to listen to music or TV."
By January, when work paused as winter residents descended on Vero, 40 rooms were finished, each at a cost of $12,000. Construction resumed May 21, Van Lith said, but it's been complicated by unexpectedly high patient volumes, particularly in July. Still, he predicts the east tower rooms – 96 in all – will be finished by Sept. 30, the end of the fiscal year.
The balance of the rooms may be included in the budget process underway right now, but construction would not begin until winter visitors leave and decrease the hospital's daily census, sometime around May, Van Lith said.
By then, IRMC may well have begun a new era under a new health system that will be able to fund a new bed tower.
That extra $1 million to finish re-doing existing rooms would be a drop in the bucket under the winning partnership proposal of Cleveland Clinic. The health system included a capital commitment of $200 million to $250 million over the next 10 years and would doubtless include a new patient tower. Final details are expected to be outlined in a definitive agreement to be revealed – provided negotiations are completed – Sept. 25 in a public meeting of hospital and health system officials at Indian River State College's Richardson Center.     
In the meantime, patients admitted to IRMC have a four in 10 chance of getting a spruced-up room for their recuperation.