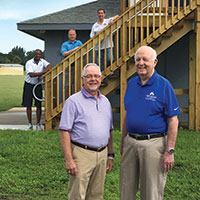 Jimmy Graves sports complex will be ready to open this fall
STORY BY SAMANTHA ROHLFING BAITA
Photo: Front: Jimmy Graves' grandfathers Leo George (left) and Jim Graves (right) with Foundation volunteers Dale Dawkins, Chris Bieber and Jim Copeland.

The Jimmy Graves Foundation, created to honor the memory of a Vero Beach high school athlete who died in a tragic boating accident, has made substantial progress on its centerpiece effort to build a sports and leadership training facility on 16th Street, across from Vero Beach High school.
Joe and Carole Graves started the foundation after their 15-year-old son, a popular athlete who attended St. Edward's and VBHS and often played on the 16th Street fields, was killed on an outing with friends on the Indian River in 2016.
Joe Graves said last week that improvements already made at the 16th Street site include a $30,000 demolition project that removed worn-out dugouts, lights, fencing, baseball fields, utilities and the northwest and southwest fieldhouses; a $130,000 re-sodding project including drainage, irrigation and grading; a $30,000 fieldhouse renovation; and $15,000 in parking lot improvements.
Graves said the foundation has received generous monetary and in-kind donations from community members and that, while it is too early to reveal specifics, several "major corporations have shown interest" in supporting the Foundation's projects and goals.
An official opening event for the renovated ballfields and community complex is scheduled for Nov. 9, which would have been Jimmy Graves' 17th birthday. The Foundation's programs and staff will be announced at that time, but activities will take place at the Jimmy Graves Community Complex throughout the fall, ahead of the formal opening.
A Sept. 29 football camp led by NFL and college players will focus on "health, safety and parent education," according to Joe Graves.  The 3X3 Kick It Soccer Tournament is slated for Oct. 6, and the Indian River Soccer Association plans to use the complex during the fall.
While sports are the Foundation's main vehicle, its larger mission is "engaging and empowering student leadership on and off the field, through education, athletics and arts, to ignite passion and purpose."
"Jimmy was friends with everyone," a leader on and off the field and a good student, his dad said. He was pals not only with teammates, but with kids involved in art, drama and music. With that in mind, Graves and the Foundation board are committed to teaching leadership that reaches beyond athletics.
To that end, a countywide leadership development program for students, parents and "student influencers" is set for October, using proven curricula from top-flight universities and college and professional football programs. 
Florida Gators men's basketball head coach Mike White told Graves the Foundation's focus on leadership is "just what we need [in high school players] coming in," explaining that many talented players enter college ball with excellent athletic prowess but lacking leadership skills.
The county declared the 16th Street ballfields surplus property in 2016 and offered the 11-acre site to the school district. When the district passed, the county put the land up for sale. There were concerns that the property would be sold to a developer and that the ballfields where Vero youth have played for decades would be lost.
That possibility was taken off the table in March 2017 when the County Commission voted unanimously to sell the property to the Jimmy Graves Foundation for renovation and continued community use.
Even as work goes forward at the ballfields with the help of volunteers who have memories of playing on the fields themselves, the Foundation board is putting in place an organizational structure that is "laser-focused on its long-term sustainability, to ensure the property and programming are strong for generations to come," according to Joe Graves.
"I'm proud of the programming we've developed," Graves says. "I think people will want to be a part of it."