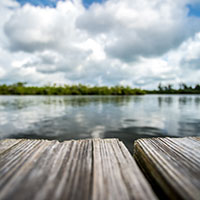 John's Island plan for pipeline under lagoon hits snag
STORY BY KATHLEEN SLOAN

John's Island Water Management's plan to build a 5-mile-long, 16-inch-diameter reuse water pipeline that would run under the lagoon for a mile of its length has hit a major new snag.
An engineering firm hired by the county to review plans for the pipeline reported that "it is our opinion that this project, as currently presented, does not represent a constructible design and does not assess or provide consideration for mitigation of identifiable construction and design risks."
Now, a start date for the $6 million project has been pushed back from this year until next summer.
The project has been under fire from multiple groups, including residents of The Shores subdivision, who claim the pipeline route, which runs along the edge of their property, crosses a fault line as it passes under the lagoon that could cause the pipe to rupture, polluting the lagoon. They also fear vibration from drilling could damage their homes.
In addition, Shores homeowners asked the FDEP to supply missing documents in the environmental impact assessment, which failed to detect endangered indigo snakes or gopher tortoises along the route that have been documented in photos taken by Pelican Island Audubon Society President Richard Baker.
The Treasure Coast Chapter of the Coastal Conservation Association, represented by President Paul Fafeita, also wants the pipeline rerouted, not just because of the geological fault, but also because a break would be nearly impossible to repair or remediate.
The latest objections to the project emerged after the county utilities department hired an engineering firm with expertise in big-pipe horizontal directional drilling projects to look over plans and procedures as part of its "due diligence before issuing utility construction permits," according to Utility Director Vincent Burke. 
Austin-based Brierley Associates Senior Consultant Jim Williams found multiple problems with project plans, starting with the fact that the pipe material to be used was not specified, information he said was "critical" for determining tensile strength and other properties that impact guiding and steering control as pipe is run under the lagoon.
John's Island Property Owners Association and John's Island Water Management, Inc. General Manager Jim Moller said high-density polyethylene or plastic pipe is being considered, but Williams warned that only about a dozen projects of this length and diameter have been done with plastic pipes.
"I have designed or been involved with most of them. From this experience, the overall lesson learned is not to underestimate the level of effort needed for planning, engineering and construction to successfully complete the project," he said.
Williams was also asked to review a presentation Shores resident Tom Ether made to the County Commission that raised concerns about the project, along with a study looking at salt water seepage from the lower to upper Floridan Aquifer in the South Central Florida region due to geological faults.
He concluded that "a geologist should evaluate the possible presence of faults near the project and local geohydrology conditions" before construction begins.
"The construction plans are not real specific because we haven't hired a drilling contractor yet," said Moller. He said one contractor being considered has its own expert horizontal drilling engineering department, which would design and drill the pipeline. He also said he is in the process of hiring a geologist to study the terrain.
The pipeline's proposed route starts at the county's reuse water tank at 77th Street and Old Dixie Highway, goes south along Dixie Highway and then U.S. Highway 1, east to the lagoon, one mile under the lagoon at a 90-foot depth, crosses the island along Old Winter Beach Road adjacent to The Shores subdivision, and then goes south along State Road A1A.
John's Island is getting the permits and building the pipeline at its own expense. Upon completion, it will transfer ownership of the pipeline to the county, which will maintain it in perpetuity, a deal already approved by the county commission. In exchange, the county will sell John's Island 1 million gallons a day of reuse water at half price for 25 years, allowing the community to recoup project costs.
The 1,650-acre John's Island community needs more reclaimed water for its two island golf courses, and for its 1,382 residents who live in large single-family homes with big lawns and in condominiums with acres of lushly planted communal land.
Up until now, the community has gotten most of its irrigation water from the City of Vero Beach, but Vero doesn't have any more to spare.
The county meanwhile has an increasing amount of reuse water it needs to dispose of as the population grows and more homes are converted from septic systems to sewer.
"We know John's Island needs to irrigate and the county needs to dispose of its wastewater, preserving the Floridan Aquifer for drinking water," Ether said in his presentation.
"We're in favor of that. But we need to see and agree on facts and solutions. Why this tortuous route that leaves a pipe in shifting sands that could break and pollute the lagoon?"