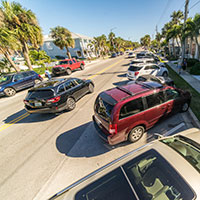 New push to finally solve Central Beach parking problem
STORY BY LISA ZAHNER

Vero City Councilman Lange Sykes is frustrated with too much talk and too little action on the parking problem that plagues Ocean Drive businesses. He wants it solved this season.
"I've only got three meetings left," said Sykes, who is not running for another term on the City Council. "We need to get something done."
City officials over the past decade have discussed parking meters, kiosks, valet parking, bike sharing and even a municipal parking garage. Sykes urged City Manager Jim O'Connor to bring the best options together for the City Council on Oct. 4.
"We need proposals – get the vendors in here next meeting," Sykes said.
O'Connor on Monday said he and Public Works Director Monte Falls – who will be filling in as city manager on the meeting day while O'Connor is out of state – quickly figured out that it would take too long for the vendors themselves to make presentations.
"We hope to have four proposals to present to the council," O'Connor said, adding that options include smartphone apps that set up a structure, collect fees and enforce parking. This can be done invisibly, without a kiosk, using the driver's cellphone GPS, or with a kiosk that allows people to pay onsite without using the app.
With the advent of paid parking, the prospect of getting hotel and restaurant employees to park a couple blocks away at Riverside Park and ride a free shuttle might be more attractive. A previous shuttle, sponsored in part by the Vero Beach Hotel and Spa, was discontinued because very few people used it.
Senior Resource Association CEO Karen Deigl, who managed the previous shuttle operation, updated the council on what another shuttle would cost to operate, noting that there could be some grant funding available.
Deigl said the cost would be $200,000 per year to run a shuttle 12 hours per day – possibly 6:30 a.m. to 6:30 p.m. – six days per week with no shuttle on Sundays. Each additional hour of operation, Deigl said, would cost about $53 per hour, which accounts for the bus, driver, fuel, maintenance and overhead.
Though coming up with $200,000 per year may seem far-fetched, O'Connor said the city would be saving money it spends now on parking enforcement through the Vero Beach Police Department.
A parking garage is estimated to cost about $3 million to build.
These options will be discussed with opportunity for public comment at 6 p.m. Tuesday at Vero Beach City Hall. The council also needs to consider competing multimillion-dollar proposals for the old Dodgertown golf course property, plus make a decision on a special election that same night.
Councilwoman Laura Moss also asked the City Clerk's office to pull previous metered parking decisions and discussions, which will be voluminous as this matter has consumed hours of meetings over the past six or seven years, both before the council and various committees.
O'Connor also hosted an informal parking work group of stakeholders who met extensively to try to solve the problem of customers not being able to find spaces near shops and restaurants.