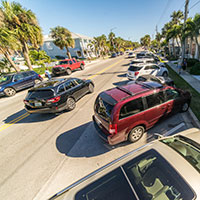 Ocean Drive parking kiosk idea draws scant support
STORY BY RAY MCNULTY

An Oceanside Business Association board member said it's unlikely more than a handful of Ocean Drive merchants will invest in street-side kiosks and charge for parking in front of their stores.
"I doubt if more than one or two retailers will do it," J.M. Stringer Gallery owner Caesar Mistretta said last weekend. "I've already spoken to some of the other retailers about it, and their response was, 'What are you, crazy?'
"It's a ridiculous idea," he added. "I pay taxes. I pay a lot in rent. This shouldn't be my responsibility. The whole thing doesn't make sense. For something like this to work, you have to do it throughout the Central Beach business district – or at least all along Ocean Drive – or don't do it at all.
"And if we're going to do something like this, the city should do it."
Cathy Padgett, owner of the Veranda jewelry store on Ocean Drive, asked the City Council at last week's meeting to allow individual beachside retailers to acquire and install paid-parking kiosks for the spaces in front of their buildings.
The council informally approved the concept without a vote, instructing interested merchants to work with City Manager Jim O'Connor and his staff.
O'Connor said the council "wants to accommodate the merchants," who would be required to sign agreements with the city, which would not bear any of the costs connected to Padgett's idea, except for Vero Beach police ticketing vehicles parked beyond the time the drivers paid for.
"The spaces still belong to the city and they're not restricted," O'Connor said. "Anyone can park there. You're just going to have to pay to do so, at least for those spaces. And instead of a three-hour time limit, you can park there for as long as you pay for, which will be up to the merchants.
"We're just getting started, so there's a lot to still be worked out," he added. "We don't know how many merchants will want to do it."
O'Connor said he knew of no other community with such a piecemeal paid-parking approach, but he sees no problem with allowing merchants to try it. "They're looking for a solution, and this isn't going to cost the city anything."
Padgett, one of many Ocean Drive retailers frustrated by the congested parking situation in the Central Beach business district during Vero's busy season, complained that the spaces in front of her store are often occupied by beachgoers and hotel employees.
The city explored the possibility of contracting with a vendor to install parking kiosks along Ocean Drive earlier this year, but O'Connor said revenues generated by such systems rarely cover the expense.
Both he and Mistretta said no vendor would embrace Padgett's plan unless most, if not all, of the Ocean Drive merchants agreed to participate.
"No parking company is going to do it for only a handful of stores, or for even just one block," Mistretta said. "If it's not the whole beach business district, or at least all of Ocean Drive, the vendor is not going to make the initial investment."
Said O'Connor: "The merchants probably will have to buy the equipment from the vendor and then pay for a maintenance contract.  I think when they see the costs, they'll reconsider, because it's going to be expensive."
However, OBA Treasurer and local realtor Al Benkert believes Ocean Drive merchants could make the kiosk plan work. In fact, he said the OBA's board is expected to discuss the possibility at its meeting this week.
"The Oceanside village is a tremendous asset for this community – not just for those who live on the island – so keeping those retailers alive and profitable is a benefit to all of us. And this may be a way to help," Benkert said.
"All this does is give individual retailers the option of reserving the spaces in front of their stores for their customers."
If nothing else, he added, the kiosks would discourage hotel and restaurant employees from parking in the on-street spaces along Ocean Drive.
"They're not going to park in the paid spots," Benkert said, "especially if the price is high enough to make parking there for several hours a significant expense."