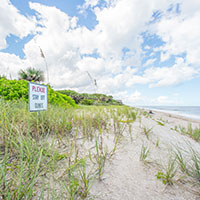 Police: Boyfriend attacks woman in Golden Sands Park
STORY BY FEDERICO MARTINEZ

It was a simple text message from a friend, but it allegedly drove a Vero Beach woman's 25-year-old boyfriend into a fit of rage. He punched the woman repeatedly in the face, leaving her unconscious in a remote part of Golden Sands Beach Park the night of Sept. 17, according to the Sheriff's Office.
"I told you before I don't want you receiving texts from anybody," the man screamed as his girlfriend begged for mercy. "I don't want you talking to anybody."
If it hadn't been for a Florida Fish and Wildlife Conservation Commission officer who was investigating an empty vehicle parked at the beach after hours, the victim, who was left partially buried in the sand, may have suffered a worse fate.
The boyfriend, Michael Anthony Trampus, 25, returned to the parking lot alone as the FWC officer was running a license plate check on the vehicle, which was owned by the injured woman, according to Indian River County Sheriff's Office reports.
Confronted by the officer, Trampus said his girlfriend needed medical assistance and then tried to lead the officer in the opposite direction from where the victim lay unconscious. When the victim was eventually located, Trampus said she had fallen down after drinking several alcoholic beverages and may have consumed Xanax earlier in the day.
County deputies called to the scene by the FWC officer found the still unconscious victim lying on the ground with blood coming from her nose and her shirt pulled down, exposing her bra, according to the sheriff's report.
"[She] was unable to speak and slowly attempted to respond by head motion, but it was apparent she was not understanding our questions in totality," Deputy Cristal Perez wrote in her report. "[She] was unable to recall any incident after having lost consciousness."
Trampus, who is 6 feet tall and weighs 192 pounds, told officers he tried to carry his girlfriend over his shoulder after she fell, but "dropped her" when she jumped off his back.
Deputies did not believe Trampus and arrested him. He was transported to the Indian River County Jail and charged with aggravated assault
The victim was taken to Indian River Medical Center. Investigators noted her left eye was black and blue and swollen, and she had abrasions on her face and a laceration over her right eye. The right side of her neck had a red mark that was consistent with being bitten by another person. She also had abrasions and bruises on her left shoulder that continued halfway down her arm. She was covered in sand and looked as if she had been in a physical altercation of some kind.
She told investigators that she and "Mike" were at the park and had a couple drinks. When she received a text, her boyfriend allegedly beat her until she lost consciousness. She then refused to answer any further questions and asked to be released from the hospital.
According to the sheriff's report, the victim became hysterical and begged investigators to release her and not let her boyfriend know she had spoken to law enforcement.
"Just let me go home with him," she pleaded. "Or he's going to kill me and you can't keep me safe."
Vero Beach 32963 does not identify victims of domestic violence and no information about the victim's age or other details were included in sheriff's office reports.
Trampus, who lists his occupation as a construction worker, was released on a $25,000 bond on Sept. 18, the day after the incident. He is scheduled to appear in court on Oct. 31.