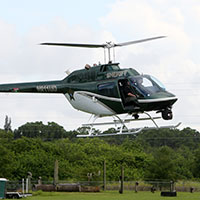 Sheriff's Office says helicopters not flying more than usual
STORY BY RAY MCNULTY

Local residents on Facebook – specifically, followers of the increasingly popular "Vero Beach Eyes and Ears Neighborhood Cyber Watch" page – might've noticed a growing buzz about more frequent sightings of Sheriff's Office helicopters patrolling the county.
But is there really more of a chopper buzz in the air?
"It's probably more perception than anything else," said Lt. Lonnie Rich, head of the Sheriff's Special Operations Section, which includes the Aviation Unit. "I monitor the hours, and we're at 10 to 14 hours of flight time per week, unless we're called out to assist road patrols.
"That hasn't changed in the six months that I've been in charge here."
Rich said any increase in reported sightings by residents likely can be attributed to the times of day the sheriff's helicopters patrol the county, usually during the evening rush hour, when more people are outdoors or on the road.
The helicopters also can be seen and heard throughout the day when they're called out to assist road patrols during traffic stops gone wrong, high-speed chases, pursuit of fleeing suspects and other situations when an eye in the sky is needed.
In addition, the Aviation Unit, which Rich said was launched in the mid-1990s by former sheriff Gary Wheeler, occasionally responds to nautical emergencies, such as stranded, capsized or sinking boats in the ocean, lagoon and other local bodies of water, as well as lost swimmers.
"There are often times when they're up for 15 or 20 minutes, then back down," Rich said. "They could go up five or six times in a day, depending on what's happening, but they're flying for a total of only two hours."
Many of the Facebook posts, though, report sightings of a sheriff's chopper at night, often between 10 p.m. and midnight, prompting the residents to wonder if a crime has been committed and a suspect is still at large in their neighborhoods.
Sometimes, Rich said, those night flights are in response to possible criminal activity. Many times, however – particularly during the summer months – they're part of normal, once-per-day sky patrols that were postponed because of bad weather.
"This time of year, we get a lot of late-afternoon and early-evening thunderstorms, and they can't go up when there's rain and lightning, so we push it back until later in the night," Rich said. "The pilots are very safety-conscious, and they're aware of the weather conditions at all times."
When flying at night, the crew is equipped with night-vision technology, which explains why residents see the helicopters patrolling without a spotlight.
As for where the helicopters patrol, that's up to the pilots, who Rich said each have "areas they like to frequent," though their routes usually take them over the barrier island, Interstate 95, and both ends of the county.
"A lot also depends on intelligence we've gathered, complaints from the public, requests from road patrols and crime activity," Rich said. "If they're up there for two hours, they can cover a lot of ground."
The Sheriff's Office operates three helicopters and has five pilots, including one who recently joined the unit and still is "becoming familiar with our aircraft, learning how to operate their systems and qualifying for night-vision flights," Rich said. "It takes time and experience."
He said it can take up to three years for pilots to get all the Federal Aviation Administration certifications needed to do the job. The unit also includes a deputized maintenance director and a civilian aviation mechanic.
The choppers are parked at a hangar at the Sheriff's Office campus – located on 41st Street, just east of 43rd Avenue – which is equipped with a lighted heliport.
Rich said it is "incredibly rare" for the unit to have more than one helicopter in the air, adding "we don't normally have pilots available to fly two at a time."