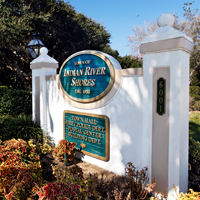 Shores still hunting for a town manager
STORY BY LISA ZAHNER

Indian River Shores is once again searching for a new town manager to replace the retiring Robbie Stabe, after the Town Council and Tim Day agreed to terminate Day's employment agreement.
Day was set to begin work this past Monday after the council executed a contract with him to manage the Shores for $125,000 per year.
Day, who previously was town manager in Melbourne Beach, and one other candidate had emerged as finalists from a field of more than 20 applicants, and he had promised to move his primary residence to the local area within 90 days of commencing employment.
The Aug. 23 employment contract had been executed by Day and the council prior to receiving results of a routine pre-employment background check.
In a special call meeting on Sept. 11, the Town Council agreed upon a $15,000 settlement to cancel the contract with Day.
When asked how the $15,000 figure was arrived at, Stabe said "because he (Day) had already given notice to his current employer and was going to be unemployed, he incurred some expenses. He was asked what he felt was a fair settlement. He offered to settle for half the available settlement included in his employment contract and the Town Council agreed to the $15,000 settlement."
The Shores had not employed a search firm to find Day, but had cast a wide net via job posting services through the Florida League of Cities and an international professional association of municipal managers.
In addition to contacting some of the other finalists to see if they're still interested in the job, Stabe is currently obtaining proposals for formal executive searches. The presentation of search options and costs, council discussion and possible interview of one or more candidates is scheduled to take place at a special meeting at 2:30 p.m. Thursday, Sept. 20, prior to a 5:01 p.m. final budget hearing.