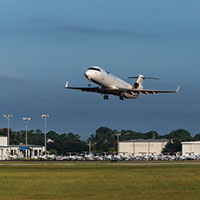 Elite Airways will resume seasonal flights to Asheville and Portland
STORY BY RAY MCNULTY

Elite Airways announced last week that it will resume its seasonal flights between Vero Beach and Asheville, N.C., on May 23 and continue the non-stop service through Sept. 5.
The airline also plans to bring back its non-stop service to and from Portland, Maine.
"We're adding Portland for the summer," Elite President John Pearsall said Friday. "So we'll have the Asheville flights on Sundays and Thursdays, and the Portland flights on Fridays and Mondays.
"We're also looking at adding flights to one other place, but nothing has been decided yet."
Pearsall said the airline hadn't yet set a date for when flights between Vero Beach and Portland will resume or determined what the airfares will be.
The service to and from the North Carolina mountains depart Vero Beach at 2:45 p.m. and Asheville at 5 p.m., with airfares starting at $179 each way.
Elite, which returned commercial air service to Vero Beach in 2015, currently offers non-stop service to Newark, N.J., with flights four days per week.