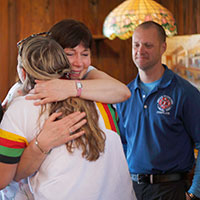 German shark victim returns to Vero, meets with rescuers
STORY BY RAY MCNULTY
Photo: Karin Stei meets with the first responders and lifeguards at Waldo's.

The hugs were long and tender. The tears were real. The reunion was as emotional as – and even more cathartic than – Karin Stei had expected during Saturday's get-together at Waldo's.
One by one, starting with the man who swam into the bloodied waters off the beach near Humiston Park after she had been bitten by a shark seven years ago, the German tourist embraced each member of the crew that she believes saved both her leg and her life.
"I'm so happy that you were there that day," Stei told Vero Beach lifeguard Erik Toomsoo, who, upon hearing her ear-piercing scream, sprinted through the sand and dived into the surf, swimming to her rescue and pulling her to safety.
She would repeat those heartfelt words to the other lifeguards who attended the gathering, which was organized by Toomsoo after learning that Stei, now 54, was returning to Vero Beach for the first time since that fateful morning.
She would say them again to Shanna Stokes, a nurse who happened to be on the beach with her mother when the shark attack occurred, and to Fire Rescue paramedic Dustin Hawkins, who had arrived on the scene within minutes.
"I thought it would be harder to come back and see everyone again," Stei said. "It was worse in my mind, probably because I didn't know how I would react, but I so much wanted to say thank you.
"I'm so happy to be here," she added. "I feel we're all connected."
Stei wasn't alone.
Toomsoo said he and Stei have kept in touch. They email each other a couple of times each year, and always on May 9 – the anniversary of the horrifying incident, which occurred at 11:30 a.m. while she was swimming in about 10 feet of water, 100 feet offshore, in front of the Driftwood Resort in 2012.
"I'm not the fastest swimmer on the team," Toomsoo said, "but I was the fastest that day."
He needed to be: Stei said the shark bite penetrated her left thigh to the bone, perforating her femoral artery and ripping away two-thirds of the muscle tissue.
She immediately raised her arm and screamed, "Shark!" and "Help!" and began swimming toward the shore.
"It was the worst feeling, thinking he was coming back to finish me off," she said. "I knew I had to get back to the beach or I'd die."
Suddenly, Toomsoo was there, reaching his arm across her chest and churning his way back to shore, where other lifeguards helped pull her from the water and set her down on the sand.
That's when Stokes took over.
Then a registered nurse and part-time lifeguard, Stokes was enjoying a day off on the beach when she, too, heard the cry for help. She ran to the scene, saw what was happening and began assisting as the crew tried to stabilize Stei's condition.
Stei lost a lot of blood, but she never lost consciousness as Stokes continued to talk to her until the paramedics arrived.  She was transported to the Indian River Medical Center, then flown by helicopter to the trauma unit at Lawnwood Regional Medical Center.
Stei underwent emergency surgery at Lawnwood, where she spent only four days before flying back to Europe. In all, she was hospitalized for more than six weeks – including three weeks in a rehabilitation hospital .
"I'm still in physical therapy, and I still take pain medication," Stei said.
Stei said she "had nightmares for a while," but they've subsided, though she continues to see a trauma counselor.
All these years later, Stei said she still enjoys the seashore, so much so that she visited the beach here the day before the reunion.
But she didn't go into the water.