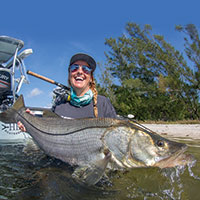 Is snook caught in lagoon on six-pound test line a world record?
STORY BY SUE COCKING
Photo: Is this 27-pound snook caught in the lagoon a women's record for six-pound test line?

A 37-year-old local woman caught and released alive a potential world-record snook on April 6 in the Indian River Lagoon near Sebastian Inlet.
Artist and gallery owner Regina Gallant caught the 27-pound snook on six-pound test line while wading in the shallows with boyfriend Adrian Gray.  The couple weighed, measured and photographed the fish, then put it back in the water to swim away.  If certified by the International Game Fish Association, the fish will beat the current women's six-pound test mark of 23 pounds caught in Jupiter in 1995.
Gallant said she and Gray have been pursuing the record in local waters for the past two months, and on that fateful Saturday, spotted their target in the middle of a school where Gallant cast a live pilchard.
"I free-lined my pilchard into the school and felt the solid telltale thump," Gallant said, referring to the technique of casting the bait without any weight on the line.  "I came tight and couldn't believe the fish charged toward me and then proceeded to scream off about 200 yards of line as she went by.  I battled her for over 20 minutes before she was netted."
Gallant and Gray – brand manager for the IGFA – were careful to weigh the fish using a scale certified by the record-keeping organization. The fishing line Gallant used had been pre-tested to ensure it would not break at a higher strength than six-pound-test, which would invalidate the catch.  Her rod was a G Loomis E6X and the reel was a Shimano Stella 4000.
The couple has submitted photos, measurements and samples of the line and leader used to catch the snook to the IGFA's world records division in Dania Beach. Certification can take several months.
Gallant said the catch took a lot of perseverance. 
"I've been working very hard on this.  It's been a great time," she said. "We were catching some really big snook, and lost a bigger one.  Both Adrian and I are very passionate about fishing."
The all-tackle world record for snook – meaning the heaviest certified fish of the species ever caught on rod and reel – is 53 pounds, 10 ounces caught by Gilbert Ponzi in Costa Rica's Parismina River in 1978.