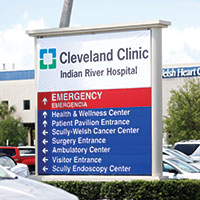 New Cleveland Clinic signs going up at hospital complex
STORY BY MICHELLE GENZ

A year before the Jan. 1 takeover of Indian River Medical Center by Cleveland Clinic, the head of the famed health system's Florida division, Dr. Wael Barsoum, said he hoped the Cleveland Clinic sign would go up on the Vero campus on Day One of Cleveland's tenure.
But as Day 110 dawned this week,  there was still no sign of the four-cornered, blue-and-green Cleveland Clinic logo on the Vero hospital's facade. Signage has sprouted in other places throughout the sprawling campus, however.
Along the roadways, existing signs are wearing a new top: vinyl printed with "Cleveland Clinic Indian River" has been stretched and bolted over "Indian River Medical Center," leaving the rest of the signs' information in place.
That should clear up confusion on the part of people looking for the hospital under its new name. Last month, a North Carolina resident, here to visit his mother who he was told was at Cleveland Clinic Indian River, had to call to make sure he was at the right place when his Maps app led him to a complex still studded with signs for Indian River Medical Center.
"We've started to make some progress," said Angela Dickens, marketing director at the Vero hospital. She is working with two staffers here and a design team in Cleveland to produce the signage that will rebrand the hospital.
"Right now, we're focused externally. That's a big, big deal," Dickens said as the first signs were going up earlier this month. "It takes a long time to get the design work finalized. Then we work at the local level with local vendors to put together quoting."
Those first few roadway signs saying "Cleveland Clinic Indian River" were startling enough to prompt drivers to pull over.
"The first day they were going up, we had visitors stopping and taking photos and saying, 'Oh, great! It's finally happening!'" Dickens said. "There's a lot of excitement."
While the more substantial pierced aluminum signage was still in production, vinyl letters on glass doors were being scraped off and replaced.
After the exterior signage is finished, Dickens says, Indian River will refresh the hospital's interior signs, including those for navigation. Cleveland Clinic is a leader in healthcare wayfinding, as the specialty is called. Good wayfinding is said to boost patient satisfaction and cut costs by not forcing trained medical professionals to serve as tour guides.
In other words, it shouldn't take a brain surgeon to find a cup of coffee. But it just about did last month when a bleary-eyed visitor from Atlanta flagged down a staffer for help finding the snack bar. The staffer turned out to be Dr. Efrain Salgado, director of Cleveland Clinic Florida's neuroscience residency program. Salgado charitably walked the visitor back through the maze of hallways and double doors to the coffee counter tucked inside the ER waiting room.
Besides working on signage, Dickens and her team are diligently churning out critical branding tools with a reach beyond the hospital.
"Most people have new business cards," she said. "We've built templates that people can snag and customize a letterhead for themselves or their departments."
The forms patients fill out on clipboards at Cleveland Clinic-owned physician practices and minutes from hospital board meetings need the new logo, too. Event materials like pop-up tents and tablecloths must say "Cleveland Clinic," and the same goes for security badges, parking tickets and certificates of live birth issued for each baby born.
"We're working with our printer vendors to make sure everything they print, all the promotional flyers and giveaway items, have Cleveland Clinic logos," said Dickens.
In recent weeks, the Scully-Welsh Cancer Center and Welsh Heart Center were scrubbed of their Duke affiliation, quietly dropped as a result of the merger, though the cancer center still has the old Duke waves logo on its facade.
The hospital's online presence appears to have fully transitioned, and this month the first ad for the freshly branded Cleveland Clinic Indian River Foundation was laid out in this newspaper, along with a simply stated ad for the hospital a few pages further in that declared: "Indian River Medical Center is now part of Cleveland Clinic."
That ad, Dickens said, is part of a new campaign tentatively titled "Better Together" that expanded to radio, TV and billboards this month.
Officials say it could take a couple of years for the two hospital systems to fully integrate, with signage only most public piece of the complex process.
"I wish I could wave a wand and they would all be changed," said Dickens. "But I feel like we're getting somewhere."