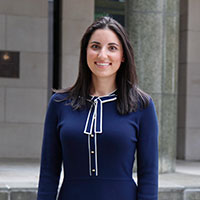 Public Guardianship Program moving to Senior Resource Assn.
STORY BY MICHELLE GENZ
Photo: Morgan Libbey Smith.

The memory is so vivid it brings Morgan Libbey Smith to tears. Morgan was 14 when her mother, a court-appointed guardian, had her gather up her childhood trove of stuffed animals to bring to a run-down nursing home in town.
There Morgan met her mother Margaret Libbey's client, an elderly woman with dementia so severe it had rendered her non-verbal. Like many such patients, she had reverted to wanting to hold soft things, her mother explained to Morgan. As her Teddy bears found new purpose in the dingy room, Morgan saw her mom's work in a new light.
"All the billion phone calls that took her away in the middle of something, all those moments suddenly strung together, and I thought, this is incredible what my mother's doing for these people," Smith says.
Ten years later, at age 24 and with a degree in health services administration, Smith came home to Vero Beach and joined her mother's company, Treasure Coast Elder Care. At the same time, she took the reins of a fledgling non-profit, the Public Guardianship Program of Indian River County.
The program, founded by two guardianship lawyers in 2012, was formed to provide court-appointed guardians for free to the indigent.  In the five years since Smith took over, the agency has grown from four clients to 16.
But with three times that many still in need of services, Smith decided she and the agency were ready to move on.
"I told my board we've raised this little baby of a program and it's now a teenager. We've reached a pivotal point. We either have to find a lot more money, or a bigger entity," Smith said.
After a year of discussion, the bigger entity turned out to be the Senior Resource Association, a nonprofit agency with a $7 million budget. It will take over the Public Guardianship Program on July 1. "I am extremely excited," said Karen Deigl, Senior Resource CEO.
Smith's announcement of the change at a meeting of the county's Hospital District, which partly funds the free guardianship program, was a moving tribute to the profound emotional investment she has made. 
Smith's youth makes her a rarity in the profession – she is now 29. With clients ranging in age from their 20s to 98, she says she meets them all "where they are now," determining how to "marry all those worlds" of medical and financial needs along with happiness, all while following the directives of the court and the law. "That's emotional," she said. "You have to be. If you're not, you're not showing your human side to your clients. And they deserve that."
Smith openly wept at the podium as she told the Hospital District board of the multiple times she has sat at the deathbed of clients who would otherwise have passed away utterly alone.
Smith says she hesitated before telling her story for print; professional guardianship has had its share of controversy, with newspapers taking a hard look at cases in which court-appointed guardians drained bank accounts and divided families.
Professional guardians charge on average $65 an hour, according to state estimates, usually paid out of the estate of the person deemed incapacitated. Those fees can accrue to a staggering sum over the ward's lifetime.
Even among indigent clients, family members can view monthly Social Security checks as "hot commodities," Smith says. She once "went bank to bank" to track down a pension that had been usurped by a family member, its existence preventing the ward from being Medicaid-eligible. "She was living in a nursing home for years. Nobody came to see her, yet somebody was taking her pension."
"Not everyone likes the decisions we make," said Margaret Libbey, who has worked as a professional guardian since 2002 and continues to take cases pro bono today. "People who are incapacitated are owed extra protection and that's what the courts are there for."
"We're usually the most hated person in the room because this person is in charge of my life now,' Smith says. "I always try to thank my clients for letting me take care of them and to let them know I'm grateful to be able to help them, because they should know those things. This is an honor for us."
It's estimated that between 1.5 million and 3 million Americans are under court-ordered guardianship. Because of its huge senior population, Florida ranks first in the number of complaints lodged, even as its reforms are said to serve as a model to the country.
In Indian River County, attorneys estimate there are hundreds of individuals under guardianship, though it's believed only four of the 30 guardians registered to practice here live in the county, Smith says.
A competency hearing can be requested by any adult on any individual, though typically the process begins with a family member or friend. Because circumstances are often of an emergency nature, typically the process takes only a matter of days or weeks.
Being deemed incapacitated is such a drastic removal of rights that it is often compared to incarceration, only worse in that prisoners typically have their rights restored on release.
That isn't often the case with court-appointed guardianship. Yet Smith has tried with some success to have a ruling of incompetency reversed. She points to one client, a man in his 50s with alcoholism. He was deemed incapacitated by the court after being evicted from his apartment and was hospitalized when the Public Guardian Program took on his case.
"We stepped him down to a nursing home," she said. "Then we found his family up north and reunited them. After a year and a half, we realized he was really with it, and we thought, let's see if the courts will restore him to capacity. And he had his rights restored."
Professional guardians usually operate as a for-profit business, charging fees against the estate of the incapacitated person. The public guardianship program is intended for people with less than $30,000 in assets, though Smith says typically her clients have far less.
When the program was founded in 2012, there were no public guardian programs on the Treasure Coast. Attorneys Mike Swan and Tom Tierney, who helped found the program, handled indigent cases pro bono; both work in guardianship law with the firm Rossway Swan, as does Smith's husband, Blake Smith.
In Indian River County, the program came about largely to prevent months-long stays at Indian River Medical Center. Even though they were no longer receiving hospital-level treatment, patients deemed incapacitated were not able to sign their own release forms or enter long-term care facilities. The massive hospital bills accrued by those patients who were indigent were being covered by taxpayers through the Hospital District.
The program was started with $30,000 in seed money from the Hospital District and the hospital itself.
Today, the Public Guardianship Program of Indian River County receives $36,000 from the Department of Elder Affairs. For 2018-19, the Hospital District upped its taxpayer-funded contribution by nearly half, to $28,500. And the John's Island Community Service League effectively doubled its already substantial contribution by donating an extra $20,000 on top of its $20,000 grant.
That bonus, intended to honor the program's merger with Senior Resource Association by helping pay for training additional guardians, was announced last week at the league's end-of-the-year luncheon.
"We've never done this before," said Louie Hoblitzell, co-chair of the John's Island group's grants committee, raising her voice over broad applause.
"The program alleviates human suffering, but also reduces long hospital stays and assures effective use of community resources," Hoblitzell told the group, which raises more than $1 million a year for local charities. "The waiting list for these services is at least three times the number of clients it currently serves."
In 2014, when the charity's board asked Smith to become its first executive director, it was hardly a dream career move: she worked for no pay for three years, though her mother put her on her own for-profit guardianship company's payroll
"I started being paid last year," she said. "I make $12,000 a year."
While she expects to continue her professional guardianship career, Smith has decided not to accept the directorship job offered her when the program moves to Senior Resource Association. She decided instead to take a post in the advancement office at St. Edward's School, her alma mater.
Deigl, a trustee of the Hospital District board, said the Senior Resource Association continues to look for an experienced director for the Public Guardian Program, and will offer training to current case management staff. In addition, the agency's finance and administrative staff will be supporting the guardian program, she said.