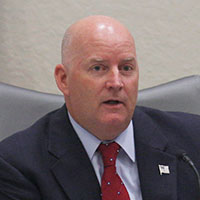 Rendell's effort to dictate exit terms gets little support
STORY BY FEDERICO MARTINEZ
Photo: Superintendent Mark Rendell

One way or another, Mark Rendell's four-year run as Superintendent of Schools in Indian River County this week appeared to be drawing to an end.
The major outstanding questions as the School Board prepared to meet this past Tuesday were the timing of Rendell's departure, how much of a buyout he would get, and whether restrictions like a non-disparagement clause would apply.
Less than 24 hours after the School Board informed Rendell last week that his contract would not be renewed, the embattled superintendent offered to resign effective May 24 if the district paid him $62,545.60 and promised to never say anything negative about him.
He also gave the board a deadline of this Wednesday for accepting his terms.
The board, which previously indicated it would not rush into any settlement with Rendell and wanted a longer period to find a replacement, showed little inclination to agree to his demands.
"I'm pleased to see he's willing to negotiate his departure," Board Chairwoman Laura Zorc said prior to Tuesday's meeting. "I think the board will be willing to make a counter offer.
"But, at this point, what he has offered isn't in the best interest of the school district. It's in the best interest of Dr. Rendell," Zorc said.
The payoff Rendell was seeking to resign was the same amount he would be entitled to if the School Board voted to terminate his contract early, Zorc said.
The big difference, she said, was that under Rendell's offer, the board would be prohibited from ever saying anything negative about him publicly, which would include attributing any financial, legal or academic problems to Rendell.
"Basically, he wants to be let off the hook for all the problems that he's created during the past four years," Zorc said.
Rendell's tenure in the district, which he joined in 2015, has been plagued by controversy and scandals, several of which have cost the district millions of dollars in legal fees and fines.
The school superintendent and some School Board members have been locked in an increasingly bitter dispute that erupted after the board began discussing Rendell's upcoming job evaluation during a March 12 work session.
At that time, several board members indicated they might not support renewing the superintendent's contract, which expires June 30, 2020. According to Rendell's contract, the board is required to notify him by July 31, 2019 if they don't plan to renew his contract.
Rendell responded by hiring Tallahassee-based H.B. Stivers as his attorney, who in an email to the board, accused them of meeting privately to discuss Rendell's contract, thus violating the state's Open Meetings Act. The board vehemently denied the allegations.
Rendell further raised the ire of board members by informing them by email on March 25 that he was seeking employment outside the district and reminding them that by the terms of his contract, he is only obligated to give them a 30-day notice of his departure.
During an interview on a local radio show in late March, Rendell said he already had applied for a job he "found appealing." If Rendell did apply for a job before notifying the board, he could be in violation of his contract, and give the board grounds to fire him without having to pay him anything.
Later during his radio interview, Rendell walked back his comments and said he meant to say that he had found a job that appealed to him.
When Vero Beach 32693 sought to ask him about the "appealing" job during a break at the April 2 board work session, Rendell responded by shouting "No," and angrily storming out of the board room.
The board has said it would like Rendell gone by July 23, but prefer he resign willingly, so that the district would not owe him anything when he leaves.
Other options include terminating Rendell's contract and paying him the remainder owed, or firing him for "just cause," which would require the School District to prove he violated his contract, Zorc said.