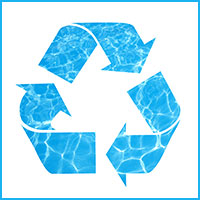 Shores demands action from Vero on rates for reuse irrigation water
STORY BY LISA ZAHNER

By next week, Indian River Shores utility customers will either have some indication that the City of Vero Beach will reduce reuse irrigation water rates for the town, or the town will declare that Vero Beach Utilities has defaulted on its water-sewer franchise agreement with the Shores.
The town's 2012 franchise agreement ties the Shores' water, sewer and reuse irrigation water rates to Indian River County Utilities' rates, meaning that both Vero and the Shores gambled on what the county would do with its rates. In December, Indian River County reduced its reuse irrigation rates from 67 cents per 1,000 gallons to 21 cents per 1,000 gallons, effective March 1.
Vero officials, so far, refuse to give the Shores the lower 21-cent rate, citing a technicality that was not identified or clarified in the 2012 contract. All five members of the Shores Town Council agreed last week that this refusal violates the terms of the franchise agreement, and that the time to stick up for the town's rights is now.
Shores Vice Mayor Bob Auwaerter said he brought up the issue in December in hopes of heading off a major dispute with the city. Auwaerter said his research showed that there was never a distinction between pressurized and non-pressurized reuse water, which is the detail Vero is hanging its hat on.
"Now, all of a sudden, they see they have to drop the rate to adhere to the contract and they're unwilling to do that because it's going to be a diminution in the rates and their revenues," Auwaerter said. "Frankly that's too bad, that's what they signed up for. I want to push back against them and make them adhere to the contract."
Auwaerter's colleagues on the town council agreed wholeheartedly. The council last Thursday authorized Town Manager Joe Griffin to begin the required actions prescribed by the terms of franchise agreement – a process that could result in the Shores breaking that 15-year agreement which is up for renegotiation and renewal in 2027.
If 15 days from March 28 goes by and Griffin is not satisfied that Vero is addressing the Shores' complaint, Town Attorney Chester Clem is authorized to draft a formal Notice of Default and deliver that notice to Vero.
Councilman Brian Foley made the motion for that action, saying he's not comfortable waiting around for Vero to do the right thing.
"I feel like we're being kind of bullied on this," Foley said. "My instincts tell me we're not going to get any satisfaction out of this by just having a ping-pong match and a dialogue with these folks. I think we need to impress upon them the seriousness with which we're approaching this."
Foley pointed out that after the town gives Vero formal notice of default, Vero has 90 days to "cure" the problem. He said the Shores needs to clearly list the items the town wants cured.
Auwaerter said he not only wants the reuse rate reduced to 21 cents, but that residents should also get a refund for the higher rate paid from March 1 until the date the rate is reduced. If there's no cure within those 90 days, the process moves on to mediation.
At the time the 2012 agreement was signed, Indian River County was courting the Shores' water business and Vero's move to match county rates clenched the deal to keep the Shores utility customers on Vero's system.
Shores residents experienced immediate rate relief, while Vero got to retain the revenue from Shores customers. Indian River County does not pad its general fund via utility rates the way Vero does, so Shores officials were pretty confident at the time that they'd brokered a good deal.
Mayor Tom Slater was on council in 2012 when the agreement was signed. "They wanted to keep us in their overall water program," Slater said, adding that former councilman Dick Haverland dug in about how high Vero's reuse irrigation water rates were compared to Indian River County.
To keep the Shores from switching to county service, Slater said, Vero agreed to match the county's reuse irrigation water rate of 67 cents per 1,000 gallons, with no delineation of pressurized and non-pressurized reuse water.
"We negotiated this program and they were going to match whatever the county did. If the county went up, the city would go up. If the county went down, the city would go down. There was no mention of pressurized, non-pressurized. This is a figment of their imagination," Slater said.
Slater's memory was backed up by former vice mayor Mike Ochsner, also on council in 2012 when the franchise agreement was approved. "I am tired of the city of Vero Beach trying to balance their books on the back of our citizens," Ochsner said, pointing out that Vero also has not made good on promises of minimum pressure levels for reuse water, and he has proof of this from pressure gauges installed in his community, The Estuary.
"So the fact is that they've been in violation of our agreement from day one. Don't let them get away with it," Ochsner said.
Town Attorney Chester Clem said that the rate issue is not the only beef the Shores has with Vero, noting that the town's deteriorating tap water lines are potentially an even more costly issue that could leave residents with no water if pipes fail.
"We've got some serious situations here," Clem said, advocating for use of a utility consultant help to build the town's case that Vero is responsible for maintaining and replacing water lines as well as delivering reuse water at the county rate.
The town has a four-year notification requirement should it not wish to renew the franchise agreement with the city in 2027. Any exit sooner than 2027 would have to be for cause, with proof that Vero had first defaulted.
"We've been held up before," Slater said, referring to the Shores paying high electric rates to Vero which the town viewed as a breach of its electric franchise agreement. "But let's not get held up again."