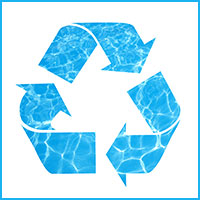 Shores hires attorney to pursue reuse water rate relief with Vero
STORY BY LISA ZAHNER

Vero Beach officials don't seem to be budging in response to repeated requests by Indian River Shores that they honor a franchise agreement and match Indian River County's reuse irrigation water rates, so the Shores has hired a lawyer to help resolve the dispute.
Local trial attorney Louis B. "Buck" Vocelle is now working for Indian River Shores on an hourly basis, his first salvo being a letter to Vero Beach Interim City Manager Monte Falls saying his client, Indian River Shores, wants its reuse irrigation rate lowered from 67 cents per 1,000 gallons to 21 cents per 1,000 gallons.
This message had already been delivered in writing by former town manager Robbie Stabe, and in person by new town manager Joe Griffin on April 16. But Griffin said he was not satisfied with the Vero Beach City Council's response to a presentation he made, providing documentation to show why Indian River Shores is entitled to the lower rate.
"They were repeating the company line that they weren't going to reduce the charges and they wanted me and the Vice Mayor [Bob Auwaerter] to participate in a rate study," Griffin told the Shores Town Council on Monday.
Instead of reducing the rate, Vero has hired a consultant to justify why reuse water delivered from Vero to the Shores should cost more than reuse water delivered by the county. To Shores officials, Vero's costs, no matter how high, are irrelevant. 
In October 2012, during heated, three-way negotiations in which Vero and Indian River County were both vying for Indian River Shores' water-sewer business, Vero agreed to match county rates in order to hang onto thousands of Shores utility customers and millions in revenue.
Both the Shores and Vero gambled on whether county rates would go up or down. As it turned out, rates remained stable from 2012 through 2018. But in December, the County Commission voted to reduce reuse water rates drastically as of March 1, and now Shores officials say Vero is trying to change the rules seven years into a 15-year contract.
At issue, Bolton said, is the difference between pressurized reuse water and unpressurized. But that distinction wasn't part of the deal when former city manager Jim O'Connor came in at the last minute in 2012 with a pitch to match county rates to get the Shores to stay with Vero Beach Utilities. Bolton said Vero is entitled to recoup a rate commensurate with the cost of delivering pressurized reuse water.
"There is a difference of opinion on that, from the town's perspective, and I'll just leave it at that," Auwaerter told Bolton Monday afternoon at the Vero Utilities Commission meeting.
Earlier that day in his role as Shores vice mayor, Auwaerter reiterated that he wants nothing to do with Vero's rate study because the proper rate of 21 cents is already known and there's no reason for a rate study in the first place. Auwaerter said Vero's hired consultant "is going to do whatever the city wants," but that "there's no reason for us to participate in the study because it acknowledges that their position has validity."
Vocelle, in an effort to enforce the franchise agreement, asked Vero on April 16 for "written confirmation from The City that they will continue to honor the franchise agreement and charge The Town $.21 per 1,000 gallons for reuse water."
Vocelle also addressed two other issues the Shores is having with its water service from Vero – problems with water quality in an older section of John's Island, and complaints regarding reuse water pressure in The Estuary.