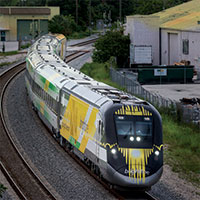 Virgin Trains finally raises funds for expansion here
STORY BY GEORGE ANDREASSI

Virgin Trains USA's plan to start zipping passenger trains through Indian River County in 2022 is now on a fast track thanks to Wall Street investors.
Virgin Trains announced that it closed a week ago on the sale of $1.75 billion in private activity bonds to 67 different investors, which will help pay for construction of new track between Virgin Trains' West Palm Beach station and the new South Terminal at Orlando International Airport.
"Construction will begin imminently and is expected to be complete in 2022," Virgin Trains said Friday in a prepared statement.
The project includes installing a second set of tracks in the Florida East Coast Railway right-of-way through Indian River and southern Brevard counties to handle the addition of 32 passenger trains per day.
Virgin Trains also plans to construct new train tracks along State Road 528, also known as the Beachline Expressway, to connect the airport terminal to the Florida East Coast Railway tracks in Cocoa.
"Connecting Miami and Orlando makes tremendous business sense," said Virgin Trains USA Chairman Wes Edens. "But even more, it provides a public benefit to the state of Florida including thousands of jobs that will keep the state economically competitive for decades."
"[The bond sale] is affirmation that our vision for passenger rail holds great promise and highlights a tremendous appetite in the private markets for large-scale transportation and infrastructure projects," Edens said.
The company started express passenger service between Fort Lauderdale and West Palm Beach in January 2018 and added Miami in May.
The project is expected to cost a total of $4 billion by the time it's finished, Virgin Trains said. Travelers will be able to ride a passenger train between Miami and Orlando in a little more than three hours.
Indian River County officials have raised safety and environmental concerns about the project, including how 32 daily passenger trains traveling up to 110 mph will interact with about 20 daily freight trains per day traveling less than 80 mph.
Indian River County has filed suit in state court asking a judge to rule the county is not responsible for the additional costs of upgrading and maintaining railroad crossings related to the passenger train service.
A consultant estimates Indian River County local governments could face payments of $1 million per year to lease and maintain the FECR railroad crossings, more than twice their current costs.
Indian River County is also appealing the dismissal of its federal suit challenging the federal environmental review process for the passenger train project.
Martin County had been a party to the suit, but settled as part of an agreement that requires Virgin Trains to pay for a variety of safety improvements.
Fort Pierce and Stuart are vying for train stations so city residents can benefit from the passenger rail service.
Vero Beach and Sebastian passed on applying for a train station because local opposition to the project remains strong.
Supporters argue the project will reduce traffic congestion and air pollution on north-south highways and facilitate business and tourist travel.
"We are revolutionizing rail travel and realizing a decades-long vision of operating express passenger rail in the state of Florida," said Virgin Trains USA President Patrick Goddard.