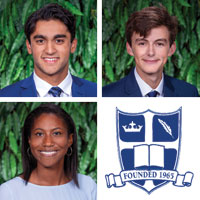 3 more St. Edward's graduates heading to Harvard this fall
STORY BY FEDERICO MARTINEZ
Photo: Clockwise from top left: Omar Shareef, Ivor Zimmerman and Katherine Alarte

Saint Edward's School has produced plenty of outstanding students over the years, but even school officials were surprised when they discovered three 2019 graduates were headed to Harvard College this fall, an amazing  accomplishment for such a small school.
The three students starting Harvard on Sept. 3 are Omar Shareef, 17, Katherine Alarte, 18, and Ivor Zimmerman, 18. Two other Saint Edward's graduates already attend Harvard including Shareef's sister, Sana, who will be a sophomore this fall, and Alarte's brother, Zach, who will be a junior.
"The standards for students to be accepted at Harvard or any of the most highly selective schools are almost hard to believe," said Michelle Sternberg, Upper School Academic Dean at Saint Edward's. "The expectation is that these students need to be near perfect in the classroom – straight A's – have perfect or near perfect test scores, but on top of that, have made a significant impact on their community or in a particular outside activity.
"Each of the three students attending Harvard this fall is bright, hard-working, creative and interesting. One excels on the stage as a leading actor, one is a musician and dancer, and the last invented a glove for the blind and has started a nonprofit to help distribute the glove."
Katherine Alarte, an accomplished musician, dancer and student, hasn't decided on a major yet, and admits she's feeling a little intimidated about attending the prestigious Ivy League school.
She also confesses that she frequently puts too much pressure on herself to do well academically. She and brother Zach, the Harvard junior, are very competitive, which can be both good and bad.
"For the most part it's a friendly rivalry," said Alarte, who begins to laugh after finishing her sentence. "I get really nervous about things, so it will be nice to have my brother there. I may get on his nerves, but I'm glad he'll be there."
Shareef is arguably the most accomplished of the three Saint Edward's students. He has already received national accolades for inventing at the age of 16 an electronic glove that helps blind people be more aware of their surroundings. But he is nervous, too, about plunging into the elite and highly competitive Harvard scene.
"There is some trepidation," said Shareef, who hopes to pursue a career in medicine. "Maybe I won't be as capable as the other students there.
"On the other hand, I've done well at Saint Edward's. I'm highly motivated and ready to take on the world. Vero Beach is kind of like living in a bubble. Most people here tend to think and look at the world the same. It will be nice meeting people with different ideas and perspectives."
For Zimmerman, attending Harvard is a family tradition. His father and other relatives are Harvard alumni.
Initially, Zimmerman looked at other schools "to see what else is out there." But after checking out several universities, he decided Harvard was the best choice for him as he pursues a career as a chemist or history teacher.
The idea of following in his father's footsteps and attending an Ivy League school is exciting, but nerve-wracking, Zimmerman admits.
"It is intimidating," said Zimmerman, a talented actor and avid board gamer. "Omar is truly brilliant. He's already made a glove that helps blind people. I know I'll be surrounded by people like him.
"It's scary, but also exciting to think I'll get to associate with these people. Not only will it push me to do better, but I think it will provide me with more opportunities to try new things."
Zimmerman, Shareef and Alarte credit their parents and the education they received at Saint Edward's for helping them excel.
Small class sizes allow teachers to work more closely with students. The school has high academic expectations for students and provides them with the resources to meet them.
"A significant part of the mission of the school is to create lifelong learners as graduates," said Mike Mersky, Head of School at Saint Edward's.
"The school provides each student with a world-class liberal arts education, where students learn to think critically, collaborate with others, question theories, and advocate for themselves in a mature, respectful manner."
That educational strategy prepares students not just for college, but for life, Mersky said. He also notes that "the class of 2019 was a very strong academically.
"Quite honestly, I am proud of all of our students, each year," Mersky said. "College admission is not an award to be won, but more of a match to be made between the student and the college or university.
"Having five students currently matriculating at Harvard University is wonderful for those students, but no more satisfying than students we have helped to create great matches at the likes of the University of Michigan, Wake Forest University and the University of Florida."