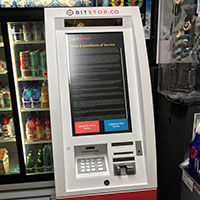 Bitcoin ATMs offer criminals new way to get your money
STORY BY GEORGE ANDREASSI

Two Bitcoin ATM companies have set up currency exchange machines in convenience stores in Indian River County, providing local residents an easy new way to acquire relatively small amounts of this new kind of money.
But local law enforcement officials are concerned that machines where you can buy this little-regulated cryptocurrency mostly offer criminals a new way to scam you out of savings while making  an untraceable getaway.
Up till now, bitcoin-related crimes in Indian River County are believed to have been relatively rare, but recently there has been more reason for concern, said Sheriff's Major Eric Flowers.
One of several scams that has cropped up involves a phony FPL representative telephoning utility customers and threatening to shut off their electricity for unpaid bills unless they immediately make a payment using bitcoin, Flowers said.
"When Vero made the switch from Vero Electric to FPL, we actually had several businesses get the scam call saying that their electric was going to get cut off and they needed to pay in bitcoin over the phone," Flowers said.
Both Bitcoin ATMs in Indian River County have warning signs advising customers to be wary of scams and never use the currency exchange machines to get bitcoins to pay utility bills. Both ATMs require cellphones and government identification cards for transactions.
Rockitcoin, a Chicago-based bitcoin ATM operator with 33 outlets in Florida, placed a currency exchange machine early this year at the Caraf Oil service station and CR Food Mart, 310 27th Ave. SW.
Ben Phillips, founder of Rockitcoin, said another ATM in Vero is in the discussion stages as the company expands its network.
Bitcoin and other cryptocurrencies are gaining popularity for transactions and investments, Phillips and other bitcoin advocates said.
"This is the future of money," Phillips said. "It's a money transfer network, it's a bank account and an investment all wrapped up in one. It's got a nice privacy factor for people as well."
Hundreds of retail websites accept bitcoin, including Overstock.com, eGifter, Newegg electronics, Shopify, CheapAir and a variety of merchants around the world.
Cables, phones, email and websites have also been used for fraud and other crimes over the years, said Phillips and other bitcoin advocates. Rockitcoin said it uses a variety of security measures to combat the use of its bitcoin ATMs for crime.
"As far as why we chose Vero Beach, we started in Miami and we're working our way up both Florida coasts," Phillips said. "A sales rep of mine indicated this gas station would be willing to host a machine. At the time, no competitors had anything near there so it was kind of a no-brainer."
Miami-based Bitstop, which operates 56 bitcoin ATMs in Florida, located a currency exchange machine at the Citgo service station and Quik Mart at 1005 21st St., Vero Beach.
According to the latest statistics, there are now more than 5,000 standalone bitcoin ATMs in countries around the world.
Serious investors in bitcoins, however, seem unlikely to use ATMs to acquire this cryptocurrency and generally purchase them through a broker.  A bitcoin recently was trading at more than $10,000 U.S. dollars. Their value fluctuates daily.  In the past two years, they have traded at anywhere from a little over $3,000 to just over $20,000.
ATMs like the ones in Indian River County that offer the opportunity to purchase fractions of a bitcoin for as little as $20 tend to be used for other purposes.
Check Cashing USA principal Brian Socolow said his branch at 5445 20th St., which used to sell bitcoins using a financial website but stopped earlier this year, sold the cryptocurrency to some people who  "used it to make purchases overseas because of exchange rates."
"A bitcoin that's worth $6,000 here, is worth $6,000 in India," Socolow said. "There are some companies that are online to sell certain products in other countries that will only take bitcoin."
So far, none of the bitcoin machines has been involved a criminal complaint in Indian River County, Flowers said.
But a cryptocurrency investor here reported losing $68,000 last November when hackers emptied his online account, Flowers said. The crime remains unsolved.
The most recent complaint in Indian River County about bitcoin-related fraud involved a bitcoin ATM in Miami, records show.
A 50-year-old Vero Beach man told deputies on Aug. 4 he fed $28,000 into a currency exchange machine after someone claiming to be a Social Security official threatened to have him arrested if he did not send money in the form of bitcoin.
Officials determined they would be unlikely to solve the case, which they believe involved interstate and international suspects, sheriff's records show.
In March, a Vero Beach couple reported receiving an anonymous email threatening that embarrassing material would be sent to their business contacts unless they paid $1,200 to a bitcoin account, sheriff's records show. The couple did not pay, and the blackmail case is inactive because no suspect could be identified.
Assistant State Attorney Lev Evans, who oversees major fraud cases on the Treasure Coast, said cryptocurrencies can be used for a variety of illegal transactions, including drug deals.
Evans questioned why consumers would risk losing their money by making purchases with bitcoin, instead of using traditional payment methods.
"In my mind, playing the bitcoin market would be legitimate if you're a gambler, or a high-risk investor," Evans said. "But to buy and sell things using bitcoin, it seems like the only reason to do so would be to ensure secrecy and why do you need secrecy?"