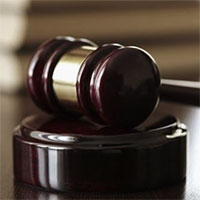 State Attorney Bruce Colton picked to oversee Florida's investigation of Jeffrey Epstein's 2008 plea deal
STORY BY RAY MCNULTY

Bruce Colton, the longtime Vero Beach resident who has served as the 19th Circuit's State Attorney for more than three decades, can add another high-profile distinction to his campaign literature when he runs for re-election next year.
Gov. Ron DeSantis appointed Colton to oversee a Florida Department of Law Enforcement criminal investigation into the secret plea deal and cushy work-release arrangement offered in 2008 to Palm Beach pedophile Jeffrey Epstein.
Epstein, a hedge-fund billionaire who was arrested again in early July on child sex-trafficking charges in New York, is believed to have hanged himself in his Manhattan jail cell where he was found dead on Aug. 10.
Despite his apparent suicide, Colton said the FDLE's investigation will continue.
"It doesn't impair the investigation at all," Colton said last week. "We're not looking at him. We're looking at the plea deal and the circumstances surrounding his work-release privileges."
Colton, who was notified he would serve as the case's lead prosecutor only 90 minutes before DeSantis' executive order was made public, said he anticipates the FDLE will do the "bulk of the legwork" during the investigation.
Colton, 72, said he has assigned two of his Fort Pierce-based prosecutors – Lev Evans and Anastasia Norman of the State Attorney's Office's major crime unit – to work with the FDLE and provide legal counsel as the investigation progresses.
Although his chief investigator, Nora Pfeiffer, attended an initial meeting with FDLE agents last week, Colton said she has not yet been assigned to the case.
"We'll be there to consult with the FDLE during the course of the investigation, just as we would be for any law-enforcement investigations here," Colton said, referring to the 19th Circuit, which is composed of Indian River, St. Lucie, Martin and Okeechobee counties.
"If they feel they have enough for a criminal charge, then we'd look at it and make a determination," he added. "Certainly, we're ready to assist with the investigation, if needed, whether it's to do interviews or research, but we're just getting started.
"Let's see what we come up with."
Local law-enforcement agencies in Palm Beach County began investigating Epstein in 2005, before referring the matter to the FBI, which built a case that resulted in a 53-page sex-trafficking indictment.
However, former U.S. Attorney Alexander Acosta – then the top federal lawman in South Florida – instead negotiated a deal that enabled Epstein to avoid federal prosecution by pleading guilty to two lesser state charges, one of which was "procuring a minor for sex."
The terms of the agreement also granted immunity to the other men who participated in Epstein's sex parties with underage girls.
Fierce criticism of Acosta's actions, which were exposed in November after a year-long investigation by the Miami Herald, forced him to resign last month as President Donald Trump's Secretary of Labor.
Acosta came under fire for failing to notify Epstein's victims before signing off on a plea deal – a step required by federal regulation – and for the plea deal itself that ultimately required a child molester to serve only a 13-month sentence in a private wing at the Palm Beach County Stockade.
The Herald's reporting also exposed Palm Beach County Sheriff Ric Bradshaw's decision to grant Epstein extraordinary work-release privileges.
After three months in custody, Epstein was permitted him to leave the stockade – six days each week, for up to 12 hours per day – allegedly to work in the West Palm Beach office of a foundation he formed while behind bars.
"It's not unusual for a State Attorney to be taken off a case and have it transferred to a neighboring circuit," said Colton, who has worked in the 19th Circuit's State Attorney's Office since 1974 and assumed the top job in 1985.
"This wasn't something I asked for. We have plenty to do here in our circuit, but the investigation is limited in scope."