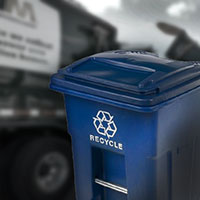 County set to crack down on use of recycling bins for garbage
STORY BY NICOLE RODRIGUEZ

County residents who are discarding trash – including soiled diapers and dead animals – in their recycling bins are threatening the viability of the countywide "blue-bin" recycling program, officials say.
In response, the County Commission is considering implementing mandatory garbage pickup for households in unincorporated areas of the county – including pockets of the barrier island – to curb contamination of blue bins with trash, while other county officials promise a crackdown on offenders.
"This is very serious. We are ready to move aggressively on those folks," County Administrator Jason Brown has said, referring to residents who use their recycling bins as garbage cans.
County officials for weeks have warned that residents who are contaminating the recycling system are jeopardizing the entire program. Recyclable items need to make up at least 80 percent of what goes in the blue bins for the system to work, but in April, Fort Pierce-based Tropical Recycling – the county's vendor that sorts its recycling loads – reported a 34 percent contamination rate.
If Tropical Recycling gets fed up and cuts ties with the county because of high contamination rates, that could cause other vendors to shun the county, said Sue Flak, the county's recycling coordinator.
In that case, recyclable items could end up going to the landfill, "which would be the worst-case scenario altogether," Flak said. "That would be the end of that. Who knows where we would have to go from there?"
The problem is made more difficult for the county because a state law seems to prohibit the jurisdiction from scrapping the program, regardless of circumstances.  
State law mandates counties with a population over 100,000 must have a recycling program in place, according to a spokeswoman for the Florida League of Cities, an organization that serves the needs of Florida's cities and promotes local self-government.
"Counties with populations under 100,000 are required only to provide their residents an 'opportunity' to recycle – not necessarily to provide a formal program," league spokeswoman Brittni Johnsen said in an email.
Indian River County has a population of 157,413, according to the U.S. Census Bureau.
County officials have launched an aggressive education and code enforcement campaign to salvage the recycling system, which is used by roughly 53,000 households in unincorporated areas and 25,500 households in Vero Beach and other cities and towns in the county.
The county has mailed out more than 70,000 educational flyers in recent weeks in an effort to curb the contamination, and code enforcement officers have gone bin to bin to identify offenders to educate them and have directed the public to visit the county website to identify acceptable recyclables.
First-time offenders will receive a warning about discarding garbage in the blue bins. A second infraction yields a notice from code enforcement and a third offense could lead to a citation, $500 fine and potential removal of the bin.
As a backup, the County Commission has tentatively agreed to add a $51 mandatory garbage-service assessment to next year's tax bills if the contamination level doesn't decrease soon. If the move is finalized in September after two public hearings as part of the new budget, mandatory garbage pickup in unincorporated areas of the county would start April 1, 2020.